The second round of the British GT took place on Sunday 5th-Monday 6th May at Rockingham. After qualifying on Saturday Trackspeed Racing had taken 1-2-3 on the starting grid for the two hour race.
No 23 Mclaren tried to get into the lead and dropped six places as he came off track. No 31 Ashburn lead ahead of No 33 Keene at the end of lap one and the safety car headed out on track after several cars collided. The safety car stayed out on track for six laps, once it had exited the track the No 33 Trackspeed racing Porsche 997 gained the lead ahead of No 31 Trackspeed David Ashburn.
With thirty minutes passed in the race No 33 Keen had a lead of over 7 seconds infront of No 32 Trackspeed Porsche driven by Fisken in second and No 6 Aston Martin driven by Gaw in third. The no 27 Vita4one Ferrari driven by Palmer went off track and out of the race.
The teams could pit with one hour 10 minutes of the race remaining and a mandatory two minute stop time. At this point the top six runners were No 33 Keen in first, No 32 Fisken in second, No 6 Gaw in third, No 15 Webb in Fourth, No 007 Howard in fifth, No 24 Blundell in sixth.
Once all teams had completed their pit stops the safety car went out on track so that the recovery of a car off track could take place. No 33 still lead ahead of No 32 and No 6 in third at midway point behind the safety car. Once the safety car had returned back to the pits the lead changed to Westbrook in No 32 and pulled a 4.7 second lead ahead of No 33. No 6 was in third but due to overtaking before the safety car had left the track he suffered a 10 second stop and go penalty. No 6 re-entered the track and joined in fourteenth position.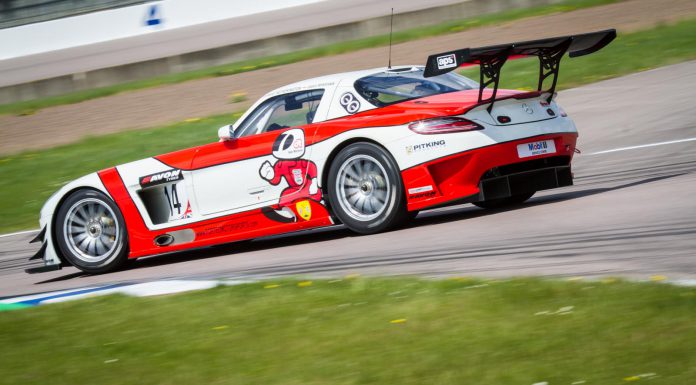 No 31 and No 15 were forced to retire with just over thirty minutes left. No 32 lead the race ahead of No 33 and No 10 with thirty seven minutes remaining.
One of the first to pit was the Barwell Motorsport Aston Martin driven by Mark Poole and Richard Abra. Prior to the race there were many positive feelings around Abra and many viewing him as a racer to watch throughout the season. Abra who was in sixth position came off track and after dropping down the field, due to the excursion he was forced to pit and after his team spent fifteen minutes investigating he retired due to a brake issue. Also retiring was the No 33 Trackspeed Porsche.
Abra said on twitter "Could have been on the podium today but we had a brake failure which meant we had to retire the car, absolutely gutted. @britishgt #racing"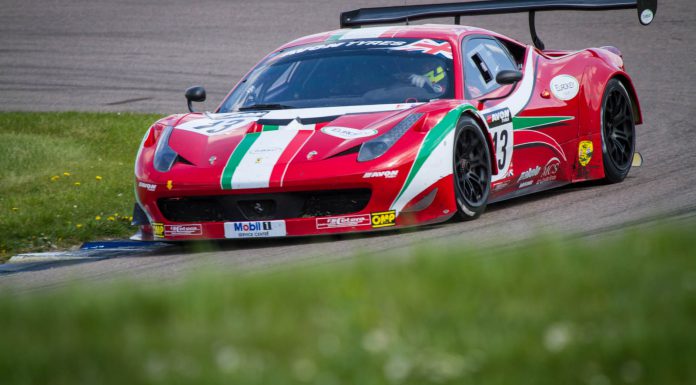 With only seven minutes left of the race the only Trackspeed car remaining on the track was ahead, No 10 Hughes second, 007 Adam in third and No 25 Bell in fourth. No 32 driven by Westbrook had an 18 second lead ahead of the field with minutes remaining.
The two hour race finished with No 32 taking the checkered flag ahead of No 10, No 007, No 25, No 14, No 18, No 1, No 41, No 9 and No 12 completing the top ten.
However No 007 received a 60 second penalty for overtaking under the yellow flag and dropped from third to seventh. Andrew Howard took to twitter and said "Just got a 60 second penalty for overtaking under yellows, 3rd to 7th in one decision. Harsh on the team but my fault. Sorry team" Howard had been present on the podium celebrating his third position before the penalty was announced.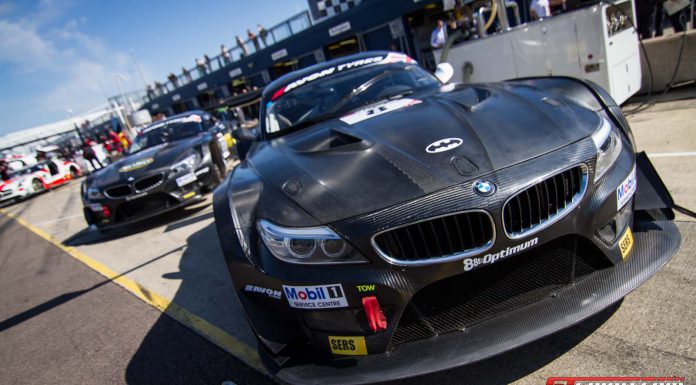 Race Results
1 No 32 Trackspeed Porsche GTR 3 2.01.02.136
2 No 10 M-Sport Racing Audi R8 LMS Ultra +16.611
3 No 25 United Autosports Audi R8 LMS Ultra +21.440
4 No 14 Fortec Mercedes AMG SLS GT3 +34.361
5 No 18 FF Corse Ferrari 458 Italia GT3 +45.254
6 No 1 Oman Air Motorbase Porsche 997GT3 R +1:17.997
7 No 007 Beechdean AMR Aston Martin Vantage GT3 +1:18.346
8 No 41 Mtech Ferrari 458 Italia GT3 +1:20.704
9 No 9 Von Ryan Racing McLaren MP412C +1:27.319
10 No 12 Balfe Motorsport Ferrari 458 Italia GT3 +1 Laps
11 No 8 888 Optimum BMW Z4 GT3 +1 Laps
12 No 22 Preci Spark McLaren 12C GT3 +1 Laps
13 No 6 PGF-Kinfaun AMR Aston Martin Vantage GT3 +1 Laps
14 No 13 AF Corse Ferrari 458 Italia GT3 +1 Laps
15 No 40 CWS 4×4 Spares G55 Ginetta GT3 +2 Laps
16 No 78 Barwell Motorsport BMW Z4 GT3 +2 Laps
17 No 11 PE Group Blendini Moto Audi R8 LMS Ultra +2 Laps
18 No 53 Complete Racing Aston Martin GT4 +6 Laps
19 No 43 Century Motorsport Ginetta G50 +7 laps
20 No 50 Redgate Lifetime Racing Ginetta G50 + +7 Laps
21 No 33 Trackspeed Porsche GTR 3 +16 Laps
22 No 80 Barwell Motorsport Aston Martin Vantage GT3 +19 Laps