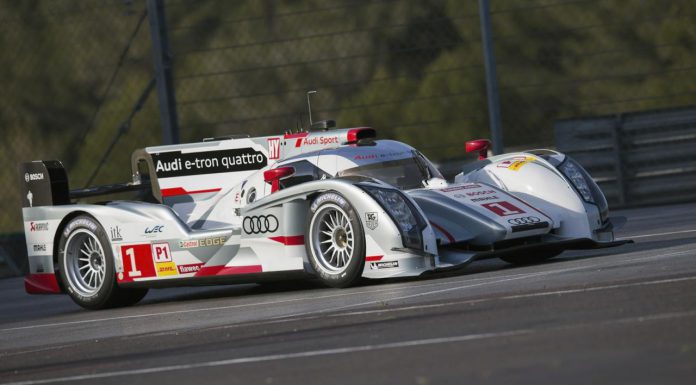 In ancticipation of its yearly contest of the twice-around-the-clock race, the 24 Hours of Le Mans, Audi has developed a brand new variant of their 2012 Le Mans winning R18 E-Tron Quattro.
The new long tail variant of the R18 is much as it sounds — an R18 affixed with a longer rear "fin". Audi claims that wind tunnel testing has proved the new, longer wing to be more effective at generating downforce at high speed, while also eliminating drag. Saying that both components are key at Le Mans would be an understatement.
The car will debut at the next round of the WEC, which will be held at the famed Spa Francorchamps circuit on May 4th. Drivers of the new long-tail R18 E-Tron Quattro will be Marc Gené, Lucas di Grassi and Oliver Jarvis.
Audi's Director of Motorsport, Dr. Wolgang Ullrich had the following to say about the introduction of the cars new aero package, "As always, Audi will be using the race at Spa as a 'dress rehearsal' for the Le Mans 24 Hours in June. Fielding the Le Mans aero variant on the third vehicle that hasn't been optimized for the lap times at Spa is an important element of the preparation for the 24-hour race."