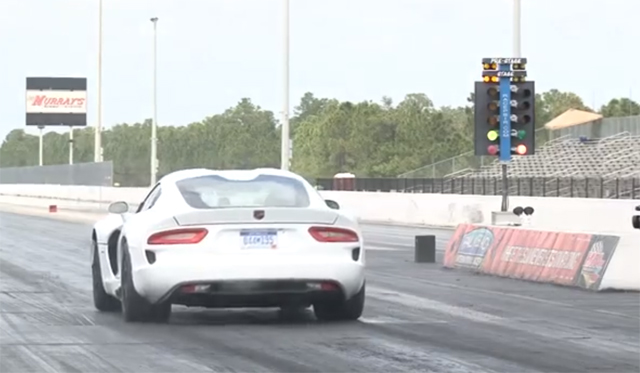 Despite SRT's reluctance to send its brand new 2013 SRT Viper down the drag strip, the team at DragTimes on YouTube were recently able to access a white example before testing out its acceleration capabilities at the Palm Beach International Raceway.
Despite the original Dodge Viper being notoriously known as an American supercar which loved nothing more than getting its rear-wheels spinning, this 2013 SRT Viper manages to complete the quarter mile in just 11.1 seconds!
That puts it just over half a second slower than a McLaren MP4-12C which DragTimes recently sent down the drag strip and that's mighty impressive for a car without the Formula One technology of the MP4-12C and a traditional manual transmission.
The best time was achieved with the launch control enabled and saw the 2013 SRT Viper also hit 62mph in just 3.1 seconds, 100mph in 7.1 seconds and a mid-run sprint from 60 to 130mph in 8.08 seconds!