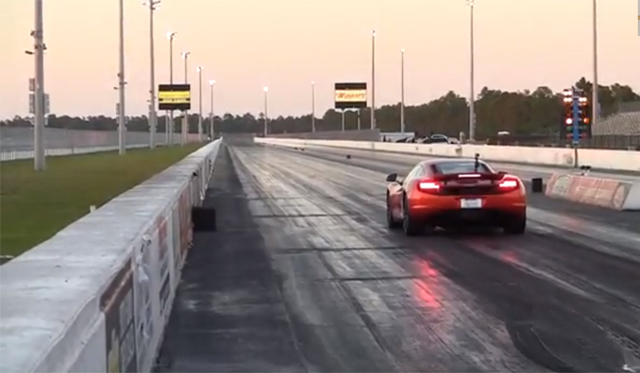 There is no arguing the McLaren MP4-12C is a quick car. The numbers speak for themselves in that respect.
Although when a stock MP4-12C, on factory tires no less, runs a 10.55 second quarter mile at a ridiculous 134.56mph, the world should take notice. This crowns the 12C with the title of second fastest production car in a 1/4 mile. The McLaren is second only to the hyperbole inducing Bugatti Veyron, a car that costs fives times that of the 616 hp McLaren.
This test was conducted by the folks over at DragTimes.com, who elaborate on the specifications of the 12C that set the record. "This McLaren was equipped with the carbon ceramic brakes, sport exhaust and super light wheels which saves precious weight coming in at just 3,118 pounds with 1/4 tank of fuel. This puts the power to weight ratio at 5.06 pounds per HP."
Watching the video gives a good indication of what a fast car looks like versus a really fast car. The McLaren managed a 0-60mph time of just 2.9 seconds. A time that fast in any car is fast. But in a car that weighs 3,100 lbs with only 616hp? That is ludicrously fast.
Check out the video above and prepare to be amazed.