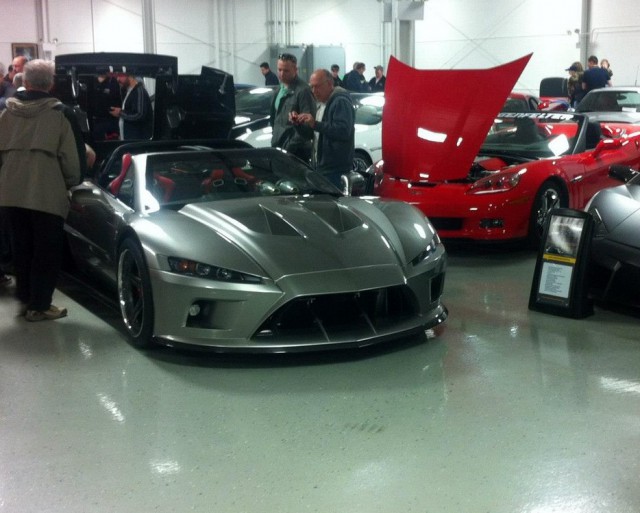 It all started as a 5 car collection to what it is now-a 150+ car collection in a 40,000 sq.ft space with what you would call rare, exotic, historic and fast; it's the Lingenfelter Collection started by Ken Lingenfelter born to a General Motors executive hence his passion for cars, and now, the Falcon F7 visited the showroom, maybe in preparation of joining the prestigious collection soon!
The Falcon F7 made its debut at the Detroit Motor Show 2011 first as a prototype followed by plans to make 15 of them in 2012, 25 in 2013 and 100s as the years follow. The thing is, the Falcon F7 is the cheaper version of the current American Supercars, namely the Saleen S7 a 550HP car with a $550,000 price tag or the 1183HP SSC Ultimate Aero at $650,000. The Falcon F7 costs $250,000.
Just a recap, the Mach7 Motorsports Falcon F7 is powered by a 7.0 liter naturally aspirated V8 provides 620 horsepower and 813Nm of torque. The modifiled LS7 engine of Corvette origin is linked to a manual gearbox. The body is completely made from carbon fiber, and the car weighs less than 1,263kg. Falcon unofficially claims a 0-60 time in the low-three-second range, and a top speed of about 190 miles per hour.