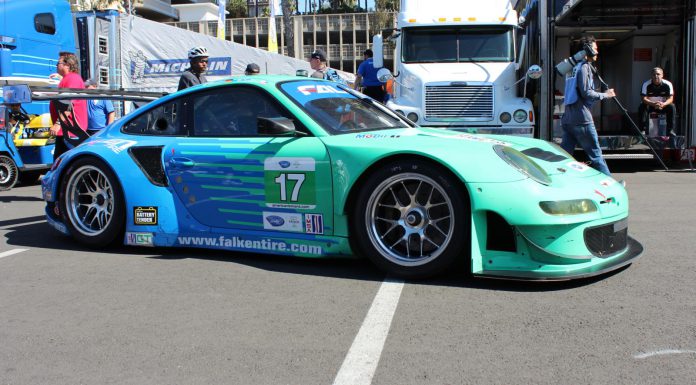 The Long Beach Grand Prix has been held, in one form or another, for going on 39 years now. The American Le Mans Series has contested seven of those, using Long Beach as the first round of their non-WEC sanctioned, a month after the 12 Hours of Sebring.
The 2013 installment of the American Le Mans Series' highest attended street course saw Klaus Graf and Lucas Luhr take the overall victory for the third straight year. In GT, BMW took their first class victory with their new pair of Z4 GTEs. P2 fell to the boys at Extreme Speed, who made the switch to the hard-fought P2 class this year after contesting the GT field for the last two. Le Mans Challenge was won by CORE Autosport's Colin Braun and John Bennett — a victory that also saw them on the second step of the overall podium. Finally in GTC, NGT Motorsports and Sean Edwards took the checkered flag.
Check out the gallery above for a look at some of the exciting street action seen at this years Long Beach race.
Results (official from ALMS.com):
1. (3) Lucas Luhr/Klaus Graf, HPD ARX-03c, 80 laps
2. (1) Neel Jani/Nick Heidfeld, Lola B12/60 Toyota, 80
3. (6) Jonathan Bennett/Colin Braun, ORECA FLM09, 79
4. (7) Mike Guasch/Luis Diaz, ORECA FLM09, 79
5. (5) Duncan Ende/Bruno Junqueira, ORECA FLM09, 79
6. (11) Guy Cosmo/Scott Sharp, HPD ARX-03b, 79
7. (17) Maxime Martin/Bill Auberlen, BMW Z4 GTE, 78
8. (12) Ed Brown/Johannes van Overbeek, HPD ARX-03b, 78
9. (20) Joey Hand/Dirk Mueller, BMW Z4 GTE, 78
10. (13) Marc Goossens/Dominik Farnbacher, SRT Viper GTS-R Viper V-10, 78
11. (18) Tommy Milner/Oliver Gavin, Chevrolet Corvette C6 ZR1, 78
12. (16) Antonio Garcia/Jan Magnussen, Chevrolet Corvette C6 ZR1, 78
13. (32) Bryce Miller/Marco Holzer, Porsche 911 GT3 RSR, 78
14. (21) Bill Sweedler/Townsend Bell, Ferrari F458 Italia, 77
15. (15) Kuno Wittmer/Jonathan Bomarito, SRT Viper GTS-R Viper V-10, 77
16. (19) Olivier Beretta/Matteo Malucelli, Ferrari F458 Italia, 77
17. (10) Tomy Drissi/Rusty Mitchell, ORECA FLM09, 77
18. (9) Charlie Shears/Tristan Nunez, ORECA FLM09, 76
19. (14) Bryan Sellers/Wolf Henzler, Porsche 911 GT3 RSR, 76
20. (24) Henrique Cisneros/Sean Edwards, Porsche 911 GT3 Cup, 75
21. (25) Nelson Canache Jr./Spencer Pumpelly, Porsche 911 GT3 Cup, 75
22. (29) Brian Wong/Dion von Moltke/Spencer Pumpelly, Porsche 911 GT3 Cup, 75
23. (23) Cooper MacNeil/Jeroen Bleekemolen, Porsche 911 GT3 Cup, 75
24. (28) Brett Curtis/Craig Stanton, Porsche 911 GT3 Cup, 75
25. (27) Chris Cumming/Kyle Marcelli, ORECA FLM09, 75
26. (31) Patrick Dempsey/Joe Foster, Porsche 911 GT3 Cup, 73
27. (26) Ben Keating/Damien Faulkner, Porsche 911 GT3 Cup, 73
28. (4) Scott Tucker/Ryan Briscoe, HPD ARX-03b, 66
29. (27) Mike Hedlund/Jan Heylen, Porsche 911 GT3 Cup, 62
30. (22) Marino Franchitti/Scott Tucker, HPD ARX-03b, 57