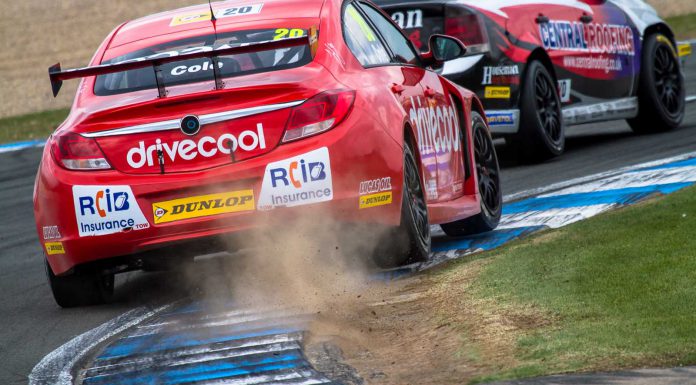 The second round of the BTCC held at Donington Park, UK this weekend has seen three different winners. Each of the three races in round two were won by three different drivers in two different vehicle makes.
Gordon Sheddon in the No 1 Honda Civic took pole position for race one in dry conditions. The grid hosted a mega 27 cars, 26 of which started on track and Dan Welsh from Pit lane. Shedden went on to win the first race ahead of Andrew Jordan and Matt Neal.
Race two of the weekend celebrated Jason Plato's 400th race and Matt Neal's 500th race, both drivers used these as their racing numbers. In the VIP hospitality Honda had presented Neal with a cake replica of his Honda Civic to celebrate such an achievement in the championship.
Andrew Jordan shot to victory in race two in the Pirtek Honda after pulling a big lead pretty early on in the race. The start of the race saw drama when the cars of James Kaye and David Nye collided and crashed into the end of the pit wall. Which resulted in the safety car heading onto track as soon as the race had started. Jordan finished ahead of Jason Plato who finished second and Gordon Shedden in third.
The last race of the day was a race of determination as the grid was reversed and saw Previous world champion Colin Turkington take pole position in the new Ebay Motors BMW 125i M-Sport. Colin went on to win the last race four seconds ahead of Gordon Shedden and his team mate Matt Neal in third.
Race one results – Top 10
1. Gordon Shedden Honda Yuasa Racing Honda Civic 19mins 04.814
2. Andrew Jordan Pirtek Racing Honda Civic +0.426
3. Matt Neal Honda Yuasa Racing Honda Civic +5.177
4. Jason Plato MG KX Momentum Racing MG6 GT +6.535
5. Adam Morgan Ciceley Racing Toyota Avensis +8.759
6. Sam Tordoff MG KX Momentum Racing MG6 GT +9.200
7. Frank Wrathall Dynojet Toyota Avensis +10.247
8. Colin Turkington eBay Motors BMW 125i M-Sport +11.079
9. Dave Newsham SpeedworksToyota Avensis +13.020
10. Jeff Smith Pirtek RacingHonda Civic +20.187
Race two results- Top 10
1. Andrew Jordan Pirtek Racing Honda Civic 23mins 07.443
2. Jason Plato MG KX Momentum Racing MG6 GT +1.955
3. Gordon Shedden Honda Yuasa Racing Honda Civic +3.233
4. Matt Neal Honda Yuasa Racing Honda Civic +4.365
5. Adam Morgan Ciceley Racing Toyota Avensis +4.980
6. Sam Tordoff MG KX Momentum Racing MG6 GT +7.004
7. Dave Newsham Speedworks Toyota Avensis +7.422
8. Aron Smith Airwaves RacingFord Focus +10.469
9. Colin Turkington eBay Motors BMW 125i M-Sport +10.977
10. Tom Onslow-Cole PPCGB.com/Kraftwerk Racing Volkswagen CC +11.470
Race three results- Top 10
1. Colin Turkington eBay Motors BMW 125i M-Sport 19mins 16.593secs
2. Gordon Shedden Honda Yuasa Racing Honda Civic +4.414secs
3. Matt Neal Honda Yuasa Racing Honda Civic +4.699secs
4. Sam Tordoff MG KX Momentum Racing MG6 GT +4.886secs
5. Adam Morgan Ciceley Racing Toyota Avensis +5.377secs
6. Tom Onslow-Cole PPCGB.com/Kraftwerk Racing Volkswagen CC +7.290secs
7. Aron Smith Airwaves Racing Ford Focus +7.744secs
8. Jason Plato MG KX Momentum Racing MG6 GT +8.550secs
9. Mat Jackson Airwaves Racing Ford Focus +9.066secs
10. Jeff Smith Pirtek Racing Honda Civic +9.604secs