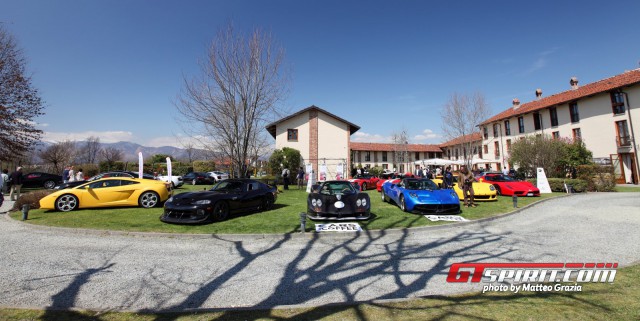 A small village called San Francesco al Campo in Torino-Italy held a very special event over the weekend, the Cars and Coffee Torino-Pagani Special. Our friend Matteo of Italiansupercar.net attended the event and thus the beautiful shots that you see. Having showed us several car events from Italy, this one is nothing short of what you have seen before.
The event took place at the four star hotel Romantik Hotel Furno where 120 cars gathered to celebrate the cars and coffee event dedicated to Pagani; even Matteo had to leave his homeland in Motor Valley by 6am heading to Turin to capture this event. There was a blue Pagani Huayra and the full black carbon-fiber Pagani Zonda S.
Other cars included a yellow Carrera GT, a Red Ferrari Enzo with an FXX rear wing, two Alfa Romeo 8C competizione (Coupè ad Spyder), three Dodge Vipers, one Mercedes SLS and one McLaren MP4 12C Spyder not to mention two Audi R8s. There were more than thirty Ferraris among them being a Ferrari 458 Italia, Ferrari Testarossa, Ferrari 360 CS while the Porsches included the 996 GT3, 997 GT3 and Boxster.
The new Maserati Quattroporte was also present; there were two Renault Alpine A110s and a Cord 812 Westchester. The event came to a close with the close at the Maddalena hill giving them the view of the city of Turin.