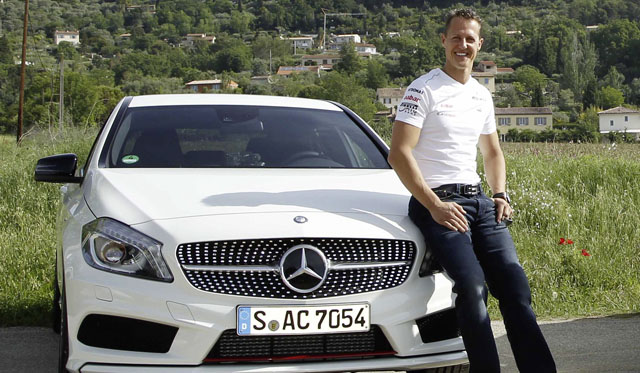 Mercedes has announced a new partnership with Michael Schumacher. The retired seven-time Formula One champion will become a safety ambassador to the marque with the three-pointed star.
Having retired from Formula One at the end of last season at the age of 43, Schumacher continues to be involved with the German carmaker. In its new role of ambassador the most successful F1-driver ever will focus on the development of future technology and road safety.
Schumacher said:
The future interests me much more than the present and past. During my Formula 1 time I always believed that you must not allow yourself to rest on your laurels, but that you must continuously try to improve. In so doing I was very often able to rely on the help of all the technologies available to me in the car and use them to my advantage. That is why I am a declared supporter of driving assistance systems both in the racing car and in the road-going car.
Schumacher won in his career an impressive seven world titles, 91 Grand Prix victories, a further 64 podium finishes and 68 pole positions, most of them with Ferrari. In 2006 he announced his first retirement, but came back in with the new Mercedes GP team in 2010. His comeback failed to live up the expectations, eventually resulting in his second retirement following three years with Mercedes.
This news follows after another F1 colleague and World Champion, Sebastian Vettel, has been named Infiniti's Director of Performance.