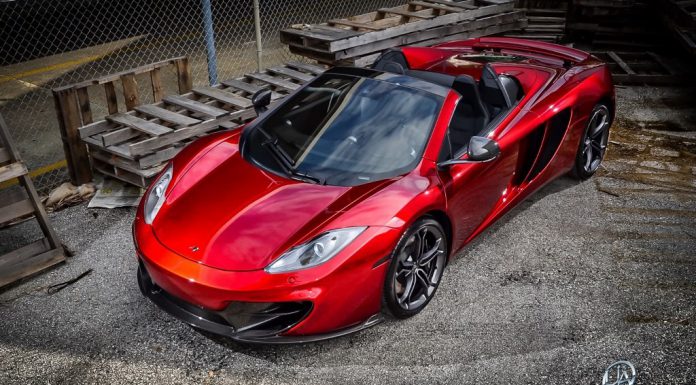 The latest drop top from McLaren, the McLaren 12C Spider has recently visited the Ultimate Auto workshop, a tuner and sound specialist based in Orlando, Florida. The cause of the visit was to get a few enhancements added to it, keeping in mind this sports car comes ready made with most add-ons that even most tuners would prefer to leave unturned.
This particular features the famous volcano red coating on the outside, Ultimate Auto added a 3M clear bra to protect the paint even at 180 MPH and the driver will keep the cops on his toes with the Escort 9500ci radar detector / laser diffuser which protects his own license. The finishing goes ahead to add smoked lights, a llumar ceramic window film and carbon fiber trim wraps it up! The interior sees red stitching that complements the volcano red coat.
Just a recap, the McLaren 12C Spider and just like its coupe counterpart uses a 3.8 liter V8 engine feed by two turbochargers which then help the entire powerhouse into producing 592bhp and 602 Nm of torque. The top speed just like the coupe is 205mph and a possible 196mph with the top down.