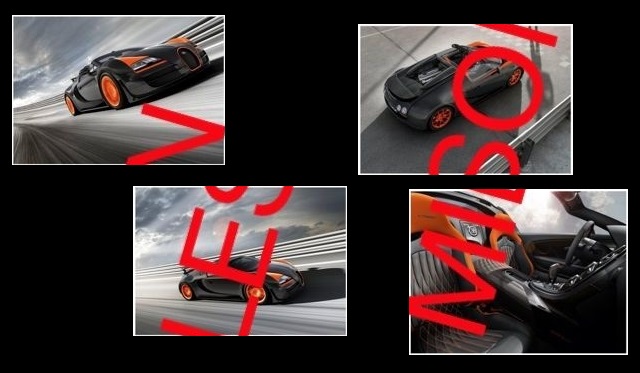 A Chinese Bugatti customer has leaked information concerning a limited edition Bugatti Veyron Vitesse due to be unveiled at the Shanghai Auto Show 2013. The Bugatti Veyron Vitesse WRC (sic.) limited edition looks all but certain to debut in China in two weeks time. According to Mileson-QG, our source, a Chinese driver, Liu Xu, piloted the Bugatti Veyron Vitesse WRC to a 408.884km/h top speed.
The convertible record attempt was made at Volkswagen's Ehra-Lessien test track two days ago. Bugatti will have been sure to dot all I's and cross all the T's after the disappointing downgrade for the Bugatti Veyron Super Sport announced last week. The tiny picture reveal a carbon fibre design with typical Bugatti orange accents for the front fenders and wheels.
We think that this is just a standard Bugatti Veyron Vitesse with a 1,200hp rated version of the Veyron's 8.0 litre W16 engine. Maximum torque is 1,500Nm. We'll bring you full details as and when they become available.