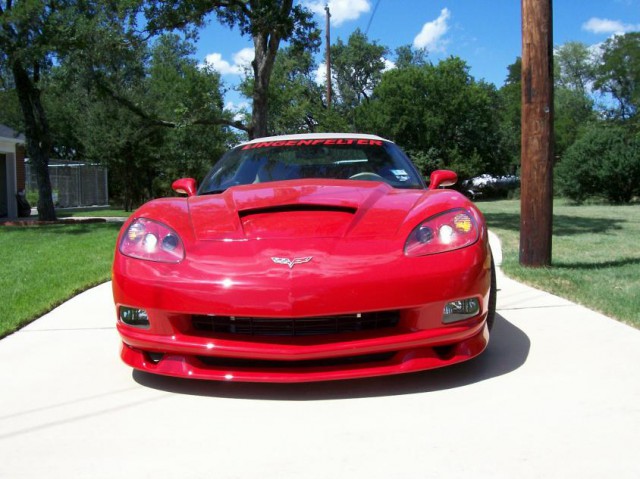 Lingenfelter Performance Engineering the well-known tuner from Indiana is selling a Commemorative Edition Chevrolet Corvette Convertible 427 CID twin turbo with 725 HP. It's one of the 10 ever build by Lingenfelter and is fitted with upgrades such as Z51 springs, sway bars and Koni double adjustable shocks not to mention a Power top.
The tuner added a 725 horsepower 427 CID engine with the exclusive Lingenfelter GEN-2 twin intercooled twin turbo package enhanced by the Corsa 304 stainless steel exhaust system with 4 pro series tips. Brake system has heavy duty dual disk clutch assembly featuring Brembo 4 piston calipers, two piece rotors, stainless lines at the front and rear, the Brembo rotors are custom painted in victory red with white Lingenfelter logos.
The interior features custom Caravaggio Connolly leather seats while the exterior comes with a Lingenfelter C6 Corvette Body Kit includes featuring their very own C6 hood, front chin spoiler, side skirts and unique one piece rear fascia with Lingenfelter logo in center.
The suspension system has Koni double adjustable front and rear shocks, the American sports car is then set to roll on Lingenfelter HRE 756 Series wheels polished and clear coated. They are then wrapped with Michelin Pilot Sport tires 255/35ZR19, 345/35ZR19. Other details include the Lingenfelter rear wheel mini tub kit, special seat embossing, serial numbered plaque, wheel centers and Lingenfelter chrome fender badges.
The car also features special commemorative C6 coil covers complete with the classic John Lingenfelter signature. There is a commemorative Edition Hypertech HyperPac Onboard Diagnostic Computer that ensures excellent drivability.