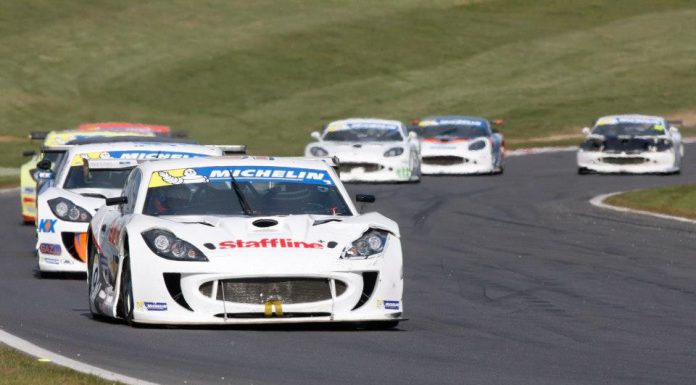 The opening race of the season for the Michelin Ginetta GT Supercup took place last weekend at Brands Hatch and different winners emerged from the three rounds. A sensational win came from the 17-year old Pepe Massot who qualified fifth, went on to finish sixth in round one before scooping the win in round two in his G55 race car. The third round proved tough for the young racer, he finished seventh.
The third round was won by 19-year old Tom Ingram who had a bad start at the practice race when his driveshaft failed and the KX Akademy star qualified seventh on the grid in his JHR Developments-prepared Ginetta G55. Round two was filled with snow, but when all rivals were running on wet tires, Ingram was running on slick tires, slow for him but once the snow started falling out towards the end of the race, Ingram was overtaking flawlessly, he managed to finish fourth and even said it was the most enjoyable race he ever driven!
Sweet victory came in the next day in round three, starting at pole position after an impressive round two finish and he led from start to end taking his seventh career win! The race cars G55 and G50 are the same apart from the power difference, they are powered by a 3.5 liter V6 engine with the G55 stocking 380bhp and G50 stocking 300bhp.
The Ginetta GT Supercup is based in the United Kingdom, using identical Ginetta G50 and G55 sports cars and supports the British Touring Car Championship (BTCC). Its meant to bridge between GT cars such as the new GT4 Championship, GT3 and GT2 racing. Qualification races last 20 minutes, with three races per weekend. This year's season will last for 27 races over 10 rounds. The next race will be at the Donington Park, Leicestershire on April 21.
Photos were taken by Jakob Ebrey Motorsport Photography