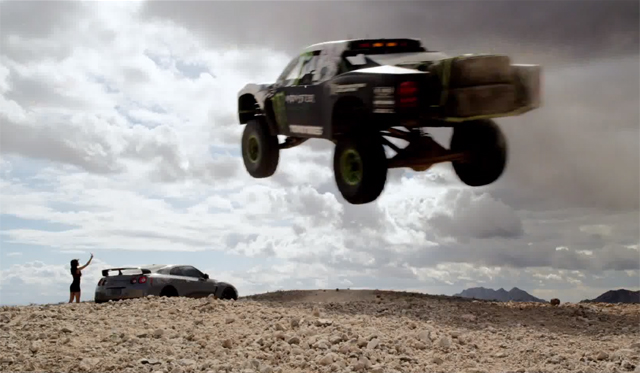 For their latest in a long line of automotive-related stunts, the crew at Monster Energy recruited the help of a Nissan GT-R, a 850hp Trophy Truck and two stunning models to put together the following clip which is sure to get the hearts of petrol heads racing.
The clip may initially seem to be about the Nissan GT-R, but as a matter of fact, the 850hp truck quickly steals the limelight as it rips through the desolate desert before coming up to the Nissan GT-R and one of the models on top of a hill looking for cell phone reception.
This then results in an insane jump from the truck before the driver invites the isolated Nissan GT-R driver for a quick spin through the rough terrain of this harsh environment.
So in short, this video is pretty damn awesome!