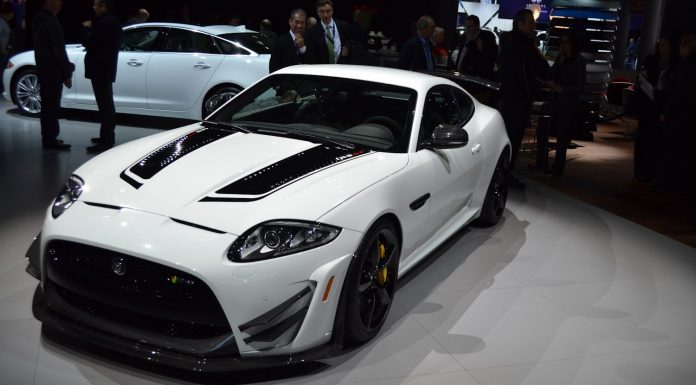 Jaguar chose the New York Auto Show 2013 to reveal its most focused sports car to date, the Jaguar XKR-S GT! The Jaguar XKR-S GT will be a limited production model with just 30 cars built by Jaguar's ETO division. We sent a photographer to take a closer look.
The Jaguar XKR-S GT features the same supercharged 5.0 litre V8 as the standard XKR-S. That means a peak performance figure of 550hp. With new, wider tyres, the 0-60mph time is reduced to just 3.9 seconds, top speed is now 186mph.
The Jaguar XKR-S GT gets a new carbon-fibre front splitter, dive planes, extended wheel arch spats, an elevated rear wing, rear diffuser and an aluminium valance. The body modifications allow the Jaguar XKR-S GT to achieve maximum downforce of 145kg.
Only 30 Jaguar XKR-S GT's will be made available to North American customers. If you want to find out more about the Jaguar XKR-S GT, click through the embedded link.