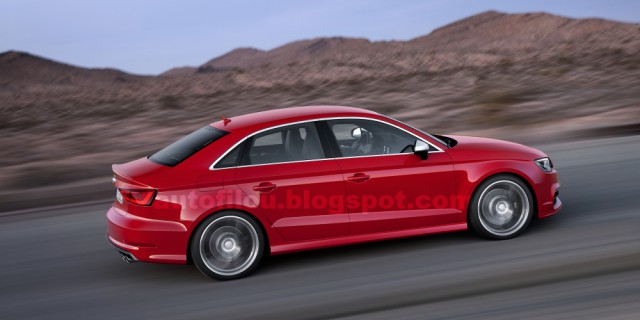 It looks as though Audi will release the Audi S3 Sedan this week at the New York Auto Show 2013. The hot sedan version of the Audi A3 has leaked via an online blog, Autofilou. Official details of the new Audi S3 Sedan have not yet been revealed. However, we do have a few details to share with you.
The Audi S3 Sedan will feature a 2-litre turbocharged gasoline engine. It should be good for around 300hp and 380Nm of torque. It will also feature Audi's legendary quattro four-wheel drive system. Performance figures will include a 0-100km/h time of little more than 5 seconds.
The design adds a larger boot to the existing Audi A3 platform. Presumably there will also be normal versions of the new bodystyle with a complete range of diesel and petrol engines.
Stay tuned for further information tomorrow!