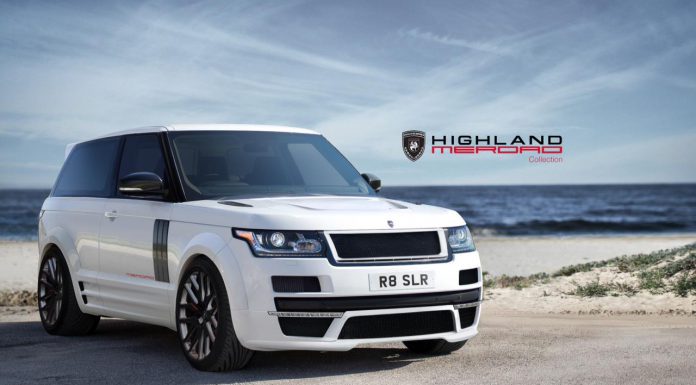 British tuning company Merdad released their latest kit for the brand new Range Rover today. The Merdad Range Rover Highland GTC gets two variants, a two-door coupe and the more conventional three-door model. The Range Rover isn't the first luxury SUV Merdad has carried out a conversion on. The Porsche Cayenne has previously received the same treatment.
Modifications include to the Merdad Range Rover Highland GTC include a set of wheel arches which extend the body width by 92mm overall. The kit also includes a set of side skirt panels, twin air-vents, a full carbon rear bumper, diffuser and tailpipe deflectors. To finish it all off, the Merdad Range Rover Highland GTC gets an extended roof spoiler and a smaller spoiler below the tailgate.
Sport suspension is fitted which brings the Merdad Range Rover Highland GTC 40mm closer to the ground. Power from the 5.0-litre V8 power plant will be increased from 510hp to 700hp. Larger front and rear brake pads will also be offered as well as a custom exhaust system. For the wheels, a choice of 22 or 23 inch Merdad design wheels are available.
The interior will also get personal touches. Conversions can be applied to the seats. Interiors can be tailored to any customers own unique tastes.