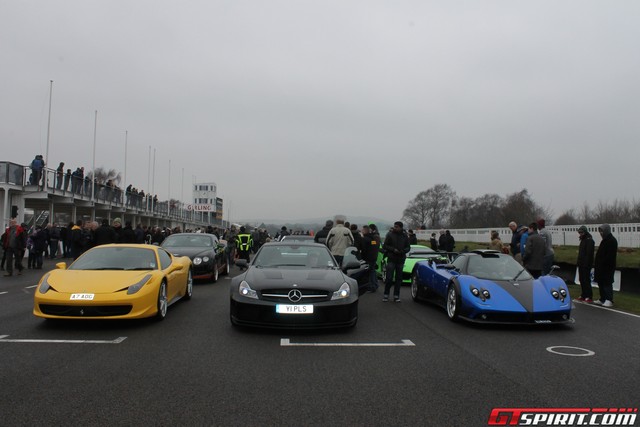 Yesterday saw the 2013 edition of the now annual Saywell International Charity Track day at the world famous Goodwood Race Track in the south of England. Unfortunately the weather wasn't the best, but still there was a hardcore turn out from other supercar owners to complement Saywells own personal collection on show.
From his personal collection Saywell brought along his revamped Zonda PS, Agera, R8 GT, 458 and CLK DTM AMG. He also brought with him a SL65 AMG Black Series, Gran Turismo Stradale, a wrapped Aventador and Continental GT.
Wilton House organiser Jay Broom also turned up in a Lamborghini Diablo VT, as did a couple of the Gumball 3000 in crew in a Twisted Land Rover Defender. Other cars floating about included a 991 Carrera, 6.2 Murcielago.
After a lunch break the cars lined up on the track and the lucky sea scouts, for whom the day was organised for, each climbed into the passenger seats of the supercars for a couple of parade laps around the track.