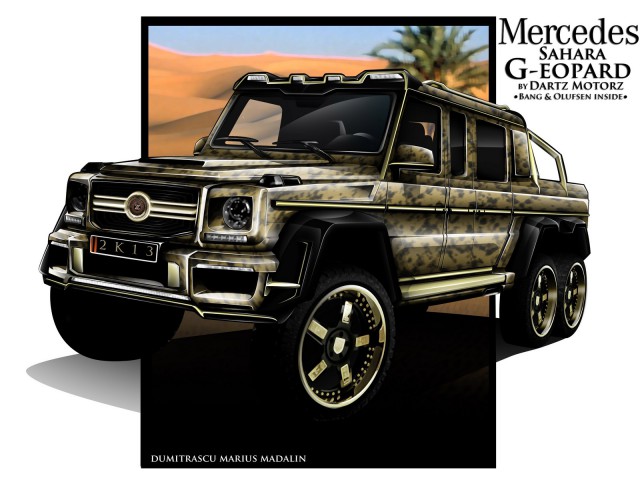 We recently showed you two of the three 6-wheeled Mercedes-Benz G63 AMG cars that are in the UAE including a video of one of them in action, in the desert. Tuning company Dartz Motorz has an order to upgrade one of them, the Mercedes-Benz G63 AMG Sahara G-eopard and has provided a list of upgrades that will be applied, styled by Dartz designer Marius Dumitrascu.
The upgrades will include two coach doors for passenger, a yacht floor and a stand-alone air-conditioner that works even when the car is not running. Refreshment will be provided through the water dispenser with cooler, silver tubes and genuine Russian diamonds and it will make you fresh water with real silver ioned and diamond water taste.
The stock wheels will be replaced with 24 inch Asanti Gold Bullion wheels and it will feature gold metal parts. The passengers will enjoy integrated gold shisha in the portable smoking room, there will also be a portable dining room. It will feature a special body makeover with nano-coating, gold sputtering and hand painted by famous Dartz artist A. C'machoff geopard spots.
Entertainment will come from the In-Car cinema from Bang & Olufsen specially integrated in this car by students of Aarhus (Denmark) Business Academy. You shall enjoy your iOS or Android devices or Beo 6&4 remote controls and with the Beo 6 your car become smart where you can control lightning or sky roof with it. There will be a BeoVision 11 Smart 3D TV and a superior sound accompanying it.