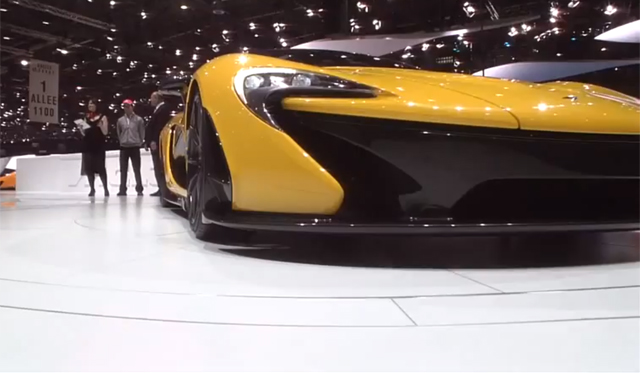 While officially previewing the production ready version of the McLaren P1 at the Geneva Motor Show 2013, Ron Dennis revealed that the new British built supercar is set to thrash the lap records for production cars at both the Top Gear test track and at the infamous Nordschliefe.
At 8:30 in the following video, Ron Dennis claims that while he was at the wheel of the McLaren P1 at the Top Gear test track, he managed to blitz the lap record by an almost unbelievable 10 seconds, which would theoretically give it a lap time of around the 1 minute 4 second mark.
If this is true, then the McLaren P1 is indeed 10 seconds faster than the current lap record holder, the Pagani Huayra and such a time difference on such a short track is almost beyond the realm of possibility for such a car.
Such a lap time would put the car less than 5 seconds slower than the 59-second lap posted by a Renault Formula One car a few years back.
Ron Dennis then went onto claim that the McLaren P1 will be capable of lapping the Nordschliefe in under 7 minutes, which would put it in contention with breaking the current production car record held by the Radical SR8 LM.
If that wasn't enough, McLaren's CEO then claims that the McLaren P1 will be the fastest car in the world, and although we hate to do this, McLaren's own claims for the P1 don't make it as quick as the Koenigsegg Agera R, Hennessey Venom GT or even the LaFerrari while its top speed cannot match the Bugatti Veyron's.
However, McLaren isn't concerned about those performance aspects, as it believes the P1 will be the fastest production car around a race track.
Either way, we can't wait to see what the first performance tests of the production McLaren P1 will reveal!