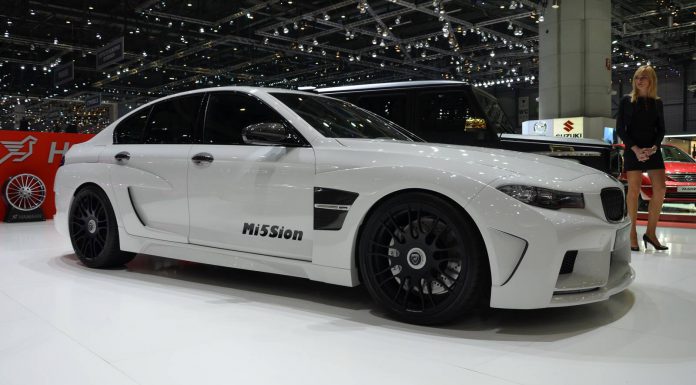 Hamann chose the Geneva Motor Show 2013 to debut the Hamann BMW M5 Mi5Sion. The Hamann BMW M5 Mi5Sion is a complete aerodynamic, cosmetic and interior enhancement kit for the latest BMW M5. We sent a
The Hamann BMW M5 Mi5Sion features a tailor-made wider body adds 30 mm on each side and receives some weight treatment. Furthermore Hamann has added a set of full carbon parts which includes sporty wings, side skirts, door fixtures, and the broad rear and additional parts like a roof spoiler. The Hamann BMW M5 Mi5Sion gets a new rear apron with the exhaust behind the fender wells and an integrated diffuser which houses two stainless steel tailpipes on the left and right of the new rear silencer.
The interior of the Hamann BMW M5 Mi5Sion also gets a complete overhall. The cockpit presents with the same alpine-white leather as the exterior paint. Furthermore aluminium footrests and door sill trims have been installed as well as carbon embossing.