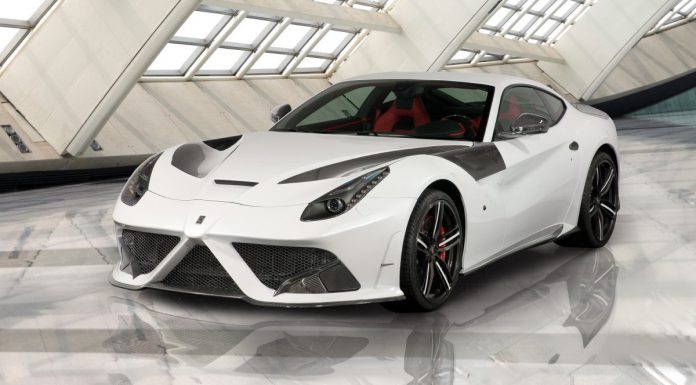 Mansory, one of the biggest names in the luxury tuning business, has released its Geneva Motor Show 2013 debut, the Mansory F12 Stallone. The previous generation Mansory Stallone was one of our favourite tuned supercars, the Ferrari F12 Berlinetta based version promises to be even better!
The Mansory F12 Stallone gains a set of high-quality body parts. The engineers and designers used carbon fibre replacements for the entire front end, with a new bonnet design and a downforce-generating front spoiler with special air intakes. New side skirts have been fitted along with a new rear end, a discreet rear wing and an integrated diffuser.
The Mansory F12 Stallone receives a performance boost too. The Mansory technicians have fitted a modified ECU and a sports exhaust system which frees an extra 35hp, boosting the 6.0 litre twelve- cylinder engine from 740 to 775 hp. Torque is now 725Nm, with lies at an additional 35 Nm.
Mansory fit light weight forged wheels to the Mansory F12 Stallone. At the front these measure 21 inches with 255/30/21 tyres and at the rear, they measure 22 inches with 355/25/22 tyres.

As with all Mansory products, the Mansory F12 Stallone can be tailored to an owners individual tastes. This particular car features a tasteful black and red interior colour shame.