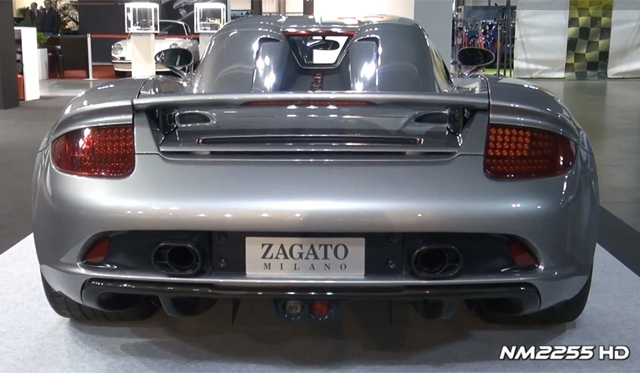 With numerous famous Aston Martin's to their credit, design firm Zagato has gone onto become one of the most sought-after and exclusive automotive customizers and NM2255 was recently on hand to capture a one-off Porsche Carrera GT created by Zagato for one very lucky customer.
Very few aftermarket tuning houses have been brave enough to tackle the Porsche Carrera GT, and when they do, like Gemballa did with the Gemballa Mirage GT, they're often dramatically changed and upgraded from the standard car, but the following Porsche Carrera GT by Zagato has managed to maintain many of the same body components as the standard car.
As a result, it features a very similar if not identical rear end with slightly modified exhaust pipes while the largest change is the completely redesigned engine cover and the massive Porsche emblem along the mesh insert of the engine cover.
If that wasn't enough for one day, NM2255 was then given the opportunity to see and hear the car rev its infamous V10 engine!