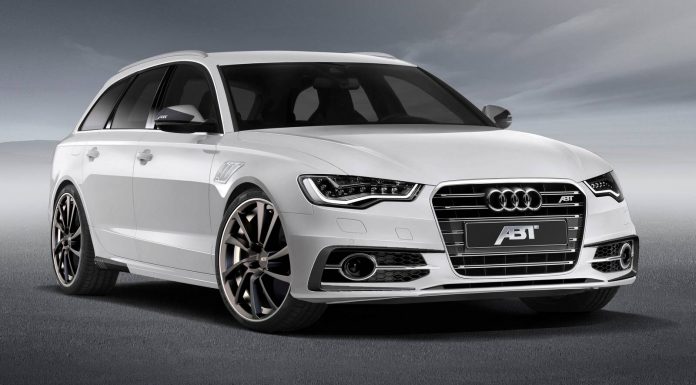 ABT have pulled the curtains off their remaining Geneva Motor Show 2013 lineup. Their display this year will include the ABT R8 GTR we displayed last week, it will also include the ABT RS5-R, a new ABT Golf VII and the ABT AS6-R you see in the photos above!
ABT have really worked hard with the ABT AS6-R Avant, while the body modifications appear subtle, the powerplant is anything but! The Audi S6 Avant is fitted with a 4.0 litre DOHC twin-turbo V8 engine straight from the factory. This is then mated to a 7-speed S-tronic dual-clutch gearbox. OEM power from this setup is officially 420hp.
The ABT AS6-R increases this figure to a staggering 600hp. Some 180hp more than the standard Audi S6 manages. It isn't just fast though. Its also extremely versatile. It offers a huge carrying capacity along with enough space for a family of five.
The body modifications include new front vent surrounds, the ABT side vents, ABT door mirrors and the ABT side sills. We'll have to wait until the Geneva Motor Show starts next week to find out more about this awesome package though.