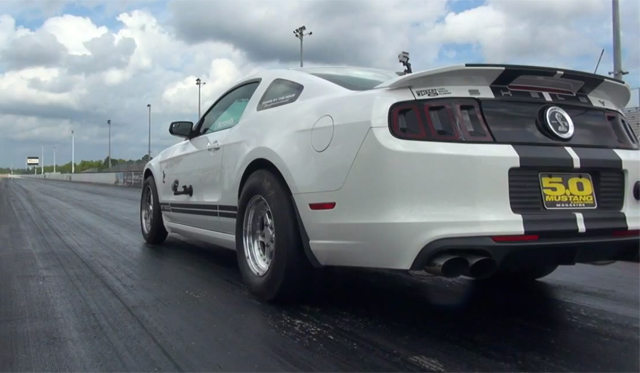 Straight out of the factory, the 2013 Shelby GT500 is one of the fastest accelerating and most powerful American muscle cars currently on the market. After all, it's massive V8 engine pumps out a Lamborghini Murcielago SV equally 662hp.
For some reason however, the team over at Lethal Performance were not completely content with the GT500's stock performance capabilities and went about turning a base 2013 Shelby GT500 into the world's fastest GT500.
This feat was achieved through the fitment of new camshafts and connecting rods, a tuned ECU, a new valvetrain, new oil coolers and most importantly, a 4-liter Whipple supercharger kit costing a cool $5,047.
The car was then fitted with a brand new performance exhaust system and fitted with a set of drag racing wheels. All of these upgrades combined to send the following 2013 Shelby GT500 through the quarter mile in just 9.3 seconds at 147mph.
Although Lethal Performance has yet to reveal power specifications for the car, we'd be surprised if this beast wasn't pumping out at least 800hp!