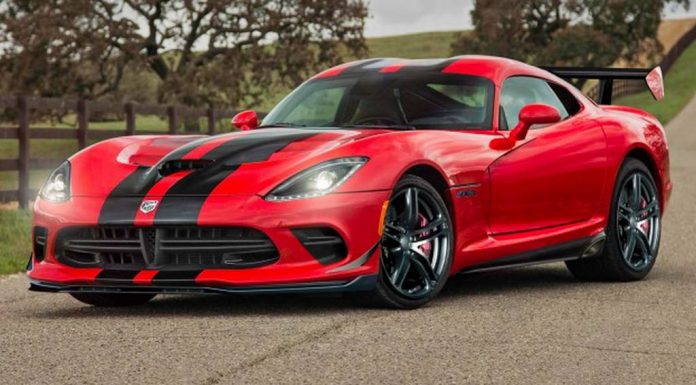 As soon as the 2013 SRT Viper was released, it was inevitable that a selection of new and more powerful variants would be offered throughout its production run. SRT CEO Ralph Gilles has already confirmed that a convertible version is on the horizon, and now thanks to new reports from Motor Trend, it's believed that an ACR variant of the 2013 SRT Viper could hit dealers as early as 2014.
The source responsible for the information claims that the only thing holding SRT from releasing the ACR variant this year, is the fact that SRT has commissioned Pirelli to develop brand new tires for the 2014 SRT Viper ACR which can compete with the Michelin Pilot Sport Cup tires featured on the Chevrolet Corvette ZR1.
It's then believed that Chevrolet has played some role in persuading Michelin not to sell the Sport Cup tires to SRT. Despite all of this politics however, the 2014 SRT Viper ACR is pinned to be the ultimate version of the brand new Viper, and although no official specifications have been released, it'll likely featuring an aero package like the previous Dodge Viper ACR as well as bigger brakes, a lower ride height, stiffer springs and anti-roll bars.
Unfortunately however, it's unlikely that SRT will be permitted to increase the Viper's horsepower due to Fiat not being too keen on the SRT Viper exceeding the power-to-weight ratio of the Ferrari F12 Berlinetta. For those who didn't know, that's the exact reason why the two cars have identical power-to-weight ratios of 5.2 pounds per horsepower.
Sources claims that the SRT Viper's 8.4-liter V10 could easily be tweaked to pump out more than the 731hp of the Ferrari F12 Berlinetta however that all relies on the fact that Fiat would accept the performance improvements.