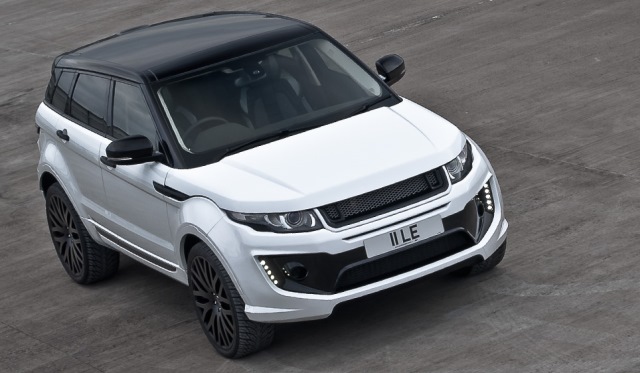 With every other major tuner and manufacturer revealing their Geneva debuts, A. Kahn Design is the latest to join the list. They have announced a Fuji White Range Rover Evoque RS250 which will make its debut at the Geneva Motor Show 2013.
The kit, just like other Kahn Design Range Rover Evoque RS250 that have featured on our frontpage before, includes a front bumper replacement with integrated vents complete with 3D mesh inserts, front bumper grille inner in matte black, side vent surrounds in matte black, LED day time running lights for the front bumper vents, painted bonnet stripe and a rear bumper replacement with integrated vents.
There is the Kahn Design twin crosshair exhaust system in matt black which ensures airflow works efficiently. It is then set to roll on Kahn RS-XF wheels sizing 9×22 inches all around. These are then wrapped in tires sized 265x35x22 inches.
The interior gets a bespoke touch. It comes complete with both front and rear seats in black leather with alcantara and red leather detail, diamond or quilted center glove box with contrast stitching. The transmission tunnel is in leather with contrast stitching, speedo and rev counter dials in red while the diamond or quilted four door armrests have red stitching. The center console in carbon fiber, floor mats have a high quality heavy duty carpet while the diamond gear selector and vented foot pedals are finished in machined aluminum.
This particular vehicle is available for £46,875.00. It will be on display at the Geneva Motor Show alongside the Kahn concept 17 Defender and the Kahn Porsche Cayenne.