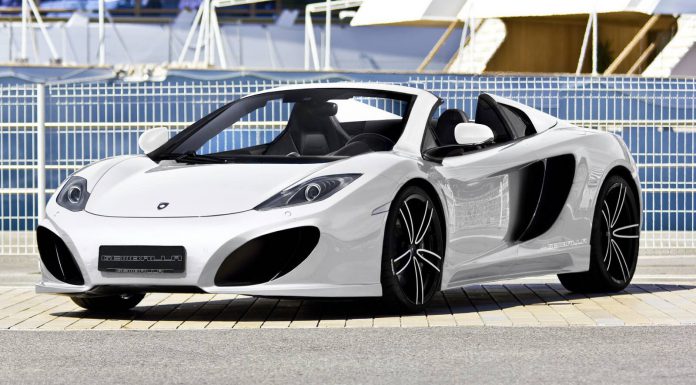 Gemballa will present the Gemballa 12C GT Spider at the Geneva Motor Show 2013. Today we got the first official details of the Leonberg-based company's open top McLaren 12C Spider.
Gemballa have only released one photo so far, a rendering of the finished project. The Gemballa 12C GT Spider is of course a similar package to the Gemballa 12C GT aerokit presented at the Geneva Motor Show 2012. It includes a new front bumper with unique Gemballa styling, a new set of side skirts, a small rear wing and a new rear bumper.
The package is more subtle than other tuners and provides a nice set of upgrades for those that want a 12C Spider with a difference! Gemballa have left the engine bay untouched for now, choosing to rely on the 12C Spider's existing talents.
The Gemballa 12C GT Spider is fitted with bespoke ultra-light forged alloy wheels in sizes 20 inch at the front and 21 inch at the rear. The tyres are Michelin Pilot Super Sport 245/30ZR20 at the front and 305/25ZR21 at the rear.
The Gemballa 12C GT Spider weighs just 1,434kg, and is powered by a twin-turbo 3.8 liter V8 engine developing 608 horsepower. An engine upgrade programme is currently in the works.
We will be bringing you official pictures of the car and live pictures from the Geneva Motor Show stand.