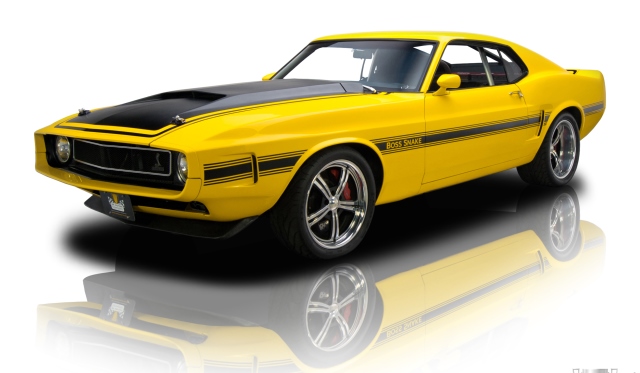 RK Motors from Charlotte have a new car on sale, a yellow 1970 Ford Mustang Boss Snake. It was officially named the Boss Snake and was penned by Kaucher Kustoms, fitted with a Jon Kaase engine and completely assembled by RPM Hot Rods of Coraopolis, Pennsylvania. From its Goodguys Yello PPG to its unique Intro wheels.
The tuning process revolved around such details as the filled and re-imagined hood, filled and relocated side scoops and a custom rear valence. A pearlescent coat of PPG Goodguys Yello was sits on the bodywork with a satin black racing stripe and subtle red pin stripes.
This Mustang is similar to the Quarter Horses that inspired it. At the front of its body, a fiberglass Shelby GT500 nosepiece hangs a tweaked grille between modern halogen headlights, a flush-fit bumper, smoked marker lamps and an aggressive chin spoiler. At the top of that grille, a custom-fabricated hood scoop bridges the gap between Ring Brothers hood pins, Detroit Speed wipers and like-new glass that's framed by black stainless trim.
The exterior of the 1970 Ford Mustang Boss Snake continues to sport a clean profile and only interrupted by body-matched mirrors at the sides of the hood scoop, Ring Brothers door handles, relocated side scoops and straight "Boss Snake" stripes. At the back of the car, a black rear valence hangs smoked Shelby tail lights between a third "Boss Snake" decal, a Camaro tag bracket, a second flush-fit bumper and a snazzy roll pan that's formed around custom center-mount exhaust tips.
The main feature under the 1970 Ford Mustang Boss Snake hood is the 520 cubic inch Jon Kaase Boss Nine V8 mated to a Tremec T6 Magnum transmission. The Jon Kaase racing engine produces a dyno-proven 770 horsepower and 720lb-ft. of torque. Other details include the highly modified floorpan and suspension. The body color is Pearlescent PPG Goodguys Yello paint. Th car also gets a Power rack and pinion steering not to mention the completely custom leather interior with vintage air cooling.