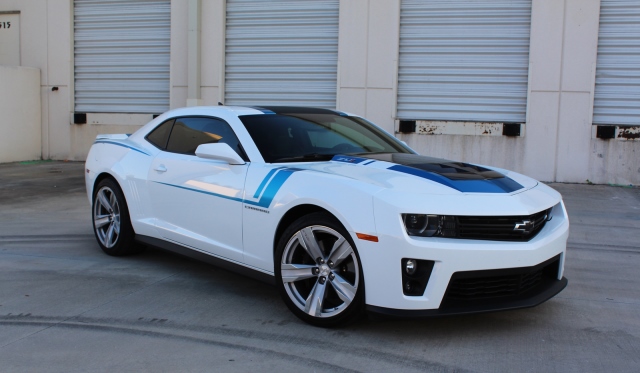 A Chevrolet Camaro ZL1 was recently treated to a full make over by Florida-based tuner Superior Auto Design. The cosmetics included a set of gloss blue metallic stripes with CF accents that run the entire length of the Chevrolet Camaro ZL1 body.
Most of the components we see are factory made such as the redesigned fascia and aluminum hood with a raised carbon fiber insert, a front splitter and new vertical fog lamps with air intakes designed for brake cooling. The hood features front-mounted air extractors with the center section made in satin black carbon fiber.
The Chevrolet Camaro ZL1, which is the most powerful Camaro ever, utilizes an LSA 6.2-liter supercharged V8 engine that develops 580hp at 6,000rpm and 556lb/ft of torque at 4,200rpm. The Chevrolet Camaro ZL1 can accelerate from 0 to 60 mph in 3.9 seconds with an automatic gearbox and 4.0 seconds with a manual a top speed of 184 mph. This particular Camaro is now ready for shipping overseas according to the tuner.