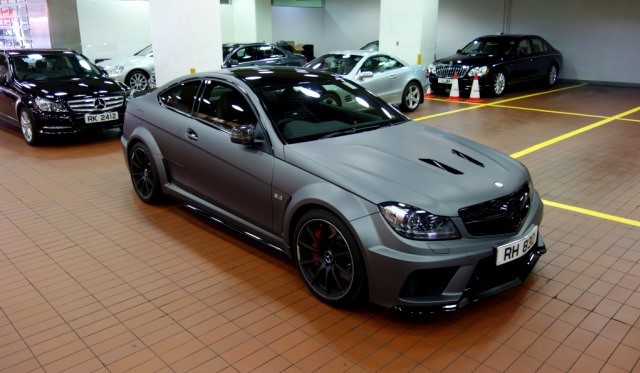 Mode Carbon recently finished work on a project based upon a Mercedes-Benz C63 AMG Black Series. The muscular C63 AMG features several add-ons fitted by the tuner among them being the Mode Carbon front lip that works with the chiseled AMG bodyworks, carbon fiber mirrors, a Mode Carbon diffuser and trunk spoiler all which give the duo a distinctive new look that is evident from the photos below. To finish it off, a Matte Seal Gray look was applied.
The Mercedes-Benz C63 AMG Black Series uses the 6.2-liter V8 developing 510hp and 457lb-ft of torque. It borrows its pistons, connecting rods and crankshaft from the SLS AMG supercar. The Mercedes-Benz C63 AMG Black Series adds more power, a stiffer suspension, unique styling elements and an upgraded interior.
Mercedes-Benz recently announced a new 507hp Mercedes-Benz C63 AMG which boasts a higher performance and a more muscular exterior that the standard coupe, once again strengthening the legacy of the C63 AMG, it will be shown at the Geneva Motor Show 2013. Matte Seal Gray isn't an option from what we understand!