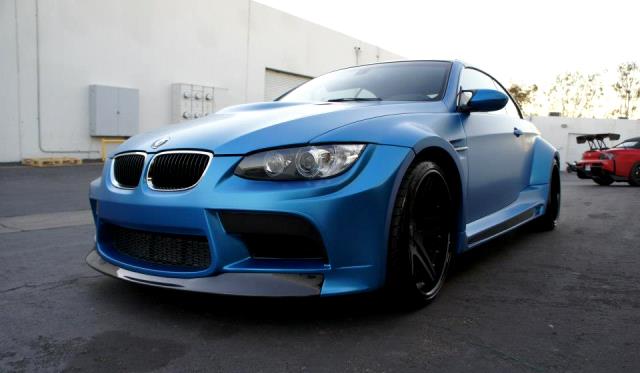 The R's Tuning an auto tuner based in Irvine California are the guys who brought us the Fast 6 Nissan GT-R. The team has finished work on a new build based upon a Frozen Blue Vorsteiner BMW M3 by The R's Tuning. The highlight of the project is the Vorsteiner GTRS3 package that was makes it one of the best looking BMW M3's currently on the street.
The package sports a GTRS3 carbon fiber front bumper with splitter to give it an aggressive stance assisted by the carbon fiber wide arch front fenders, carbon fiber vented race hood and the carbon fiber boot lid. There are carbon fiber extended side skirts too while the rear sports a similar treatment with carbon fiber wide arch rear bumper and carbon fiber rear quarter panels.
The interior of the Frozen Blue Vorsteiner BMW M3 by The R's Tuning sports yet more Vorsteiner products such as the embroided floor mats with the chrome trunk featuring the US tuning firms emblem. The BMW M3 is also rolling on a set of Vorsteiner V-308 wheels, a three piece forged wheel design. These wheels are then beautifully wrapped in Michelin Pilot Sport PS2 Performance tires.
The whole project could not sound complete without fitting the Vorsteiner stainless steel GTS3 performance exhaust system. This system is much lighter than the bulky one piece muffler of the OEM design thus reducing sprung weight. It has F1-inspired notes giving a real race like experience.