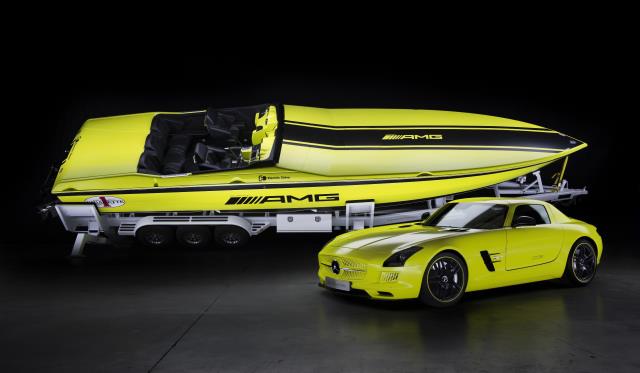 Mercedes AMG has incorporated the technology used in the Mercedes-Benz SLS AMG Electric Drive to power a Cigarette Racing boat. The partnership involves a cooperation between the German firm and Affalterbach Miami.
The project has produced the most powerful powerboat ever created. The Cigarette AMG Electric Drive Concept is now the world's most powerful and fastest electrically driven motor boat with an output of 1656 Kilowatts and a maximum torque of 3,000 Newton meters.
The powerboat measures 38 foot (11.6 metre) long and is finished in "AMG Electricbeam magno", the same matt chrome paintwork exclusively reserved for the SLS AMG Coupé Electric Drive. It also sports AMG logos on the side. It has twelve compact, liquid-cooled permanent-magnet synchronous electric motors which are the signature piece of the SLS AMG Coupé Electric Drive. Each electric motor delivers 138kW and 250Nm. The maximum output is 1,656kW and maximum torque is 3,000Nm with a top speed of over 99 mph
The SLS AMG Coupé Electric Drive is the production ready electric version of the successful SLS AMG. It is driven by four electric motors. Despite this it is the fastest Mercedes-Benz SLS AMG to date! Mercedes-Benz SLS AMG Electric Drive Technology has been developed in-house by Mercedes-AMG GmbH with help from Formula 1 experts at Mercedes AMG High Performance Powertrains in Brixworth, UK.
The SLS AMG features four synchronous electric motors providing a combined maximum output of 552kW (740hp) and maximum torque of 1,000Nm. This means that the SLS AMG Electric Drive accelerates from zero to 100km/h in 3.9 seconds, and can reach an electronically limited top speed of 250km/h.