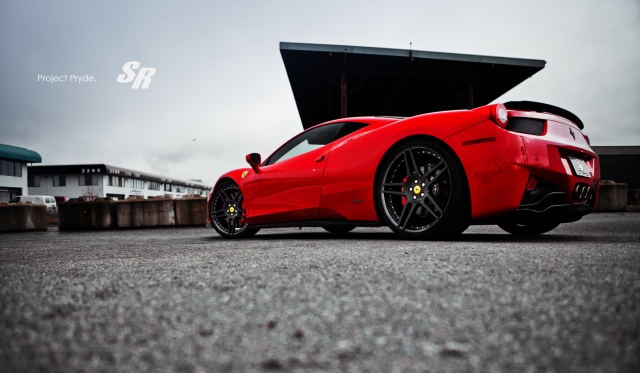 Canadian tuner SR Auto Group recently completed a project based upon a Novitec Rosso Ferrari 458 Italia. It features the carbon fiber aerodynamics package from Novitec.
The body components were fine-tuned in the University of Stuttgart wind tunnel. The components are made from light weight high-strength carbon fiber. The front spoiler is attached to the production bumper. In combination with the flaps to the right and left of the central air inlet its sophisticated shape minimizes lift on the front axle, which benefits directional stability at high speeds. Wings and the fender-mounted ventilation louvers are now made from carbon fiber.
The rocker panels create optimal airflow between front and rear wheel wells. Carbon fiber mirror housings add the final touch. To reduce lift on the rear axle the 458 Italia is equipped with a rear spoiler, a carbon fiber diffuser, ventilation louvers and the fog lamp surround. The roof panel of the car and the engine hood are also made from carbon.
SR Auto then fitted it with the split five spoke design, NF3 wheels from Novitec. They are finished in a black polish to match with the red body paint and other black painted parts on the Ferrari 458 Italia.