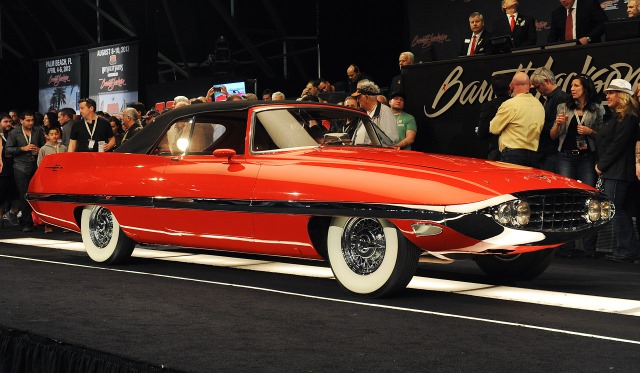 A 1956 Chrysler Diablo Concept was auctioned at the 2013 Barrett-Jackson auction for $1,375,000, the auction has seen some one-off projects auction at very high prices such as the Original 1966 Batmobile that auctioned for $4.62 million.
This Diablo was a product of the director of automotive design for Chrysler in 1953, Virgil Exner Sr., who was given the responsibility to design all of Chrysler's concept cars starting in 1954. Exner would then collaborate with Ghia, one of the best body builders in Italy to come up with the Diablo Concept. Designed in a wind tunnel, the Diablo is one of the largest custom bodied convertibles ever built by the Ghia body builder and in its second phase it retained a full convertible top.
They used a 1956 Chrysler 300 with a 392 cubic inch V8 engine featuring two four barrel carburetors, automatic push-button transmission and a ton of chrome in the engine compartment. Every detail on this car was fastidiously gone over by Virgil Exner including the pitchfork emblems, emblem on the gas filler lid which is in the trunk area and the sculpting on the exhaust tips, which reportedly took Virgil several days on the drawing board to get the design just perfect.
The Diablo is also fitted with power steering, power brakes, power windows, power top, power antenna and air conditioning. The size of this car is of 21′ long and very wide. This car has been in the same important collection for approximately 25 years.
[Via Autoblog]