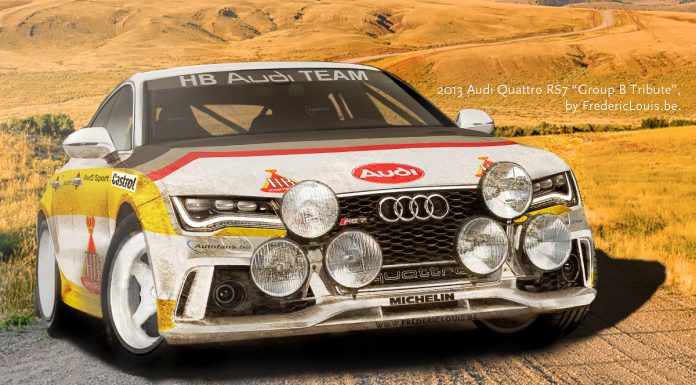 The brand new Audi RS7 was just released at the 2013 Detroit Motor Show, and in that short space of time, Frederic Louis was able to put together a Group B rallying tribute variant of the RS7 complete with outlandish Group B styling traits and a fixed roll cage.
For those who have been hiding in a cave for the last 30-40 years, Audi has an extremely rich history when it comes to rallying as the firm's legendary Audi Quattro S1 is an absolute legend in the rallying world with it still being regarded as one of the greatest racing cars ever produced. Back then the Audi Quattro made use of a 2.1 liter five-cylinder engine producing 480hp.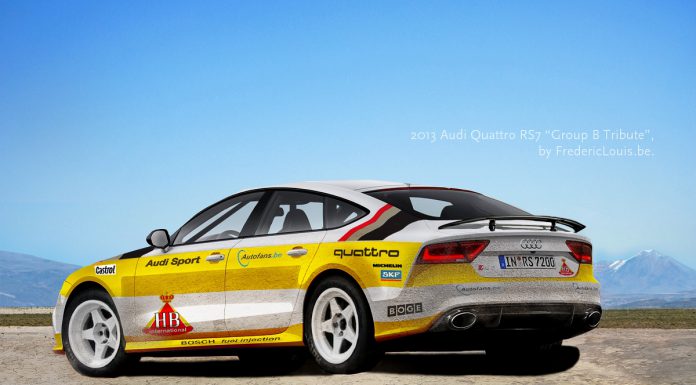 Fast forward to 2013, and Audi's latest equivalent to the original Quattro is the Audi RS7 which utilises many of the same technical and engine components as its baby brother, the RS6.
This particular Group B inspired RS7 comes fitted with all the necessary sponsors and liveries you'd expect from a rally car, as well as impressive five-spoke white, race-inspired wheels.
{Via Autofans.be]