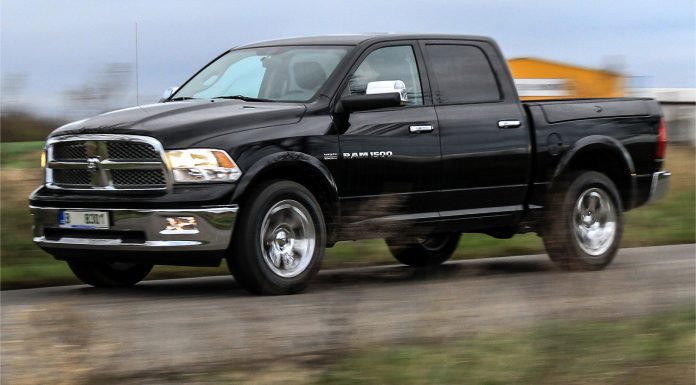 It is definitely not your everyday means of transportation when you live outside the US, but still this black RAM 1500 Laramie Edition was our ride in the Czech Republic. Oh and do not say Dodge RAM, but just RAM! It is the only way forward for the US car brand under the Chrysler flag. For those not familiar with this kind of "truck", it is not a SUV as the Europeans would call it, but a massive-sized full-bred off-road vehicle capable of taking you anywhere in a rather comfortable manner.
Our first drive featured the 2012 model RAM 1500 Laramie Edition. A seriously huge truck, which may appeal to many buyers, but Europeans consider it unnecessarily large, as are all of its oversized competitors. We tend to request more refinement and luxury from a large-sized multi-purpose vehicle. That is why, these kind of trucks are not sold via local dealerships, but via importers and specialists who see some lucrative market for these cars. They ship them from the US to Europe.
The Laramie Edition offers a number of upgrades over the standard car. Chrome details on the front and rear bumper, wheels and on the side profile of the truck are easily visible differences. The wider wheel arches finish off the exterior looks. The available accessories are bright aluminum running boards, chrome tubular side steps, trailer tow mirrors, a fuel filler door, 20 inch cast chrome wheels and a different hood.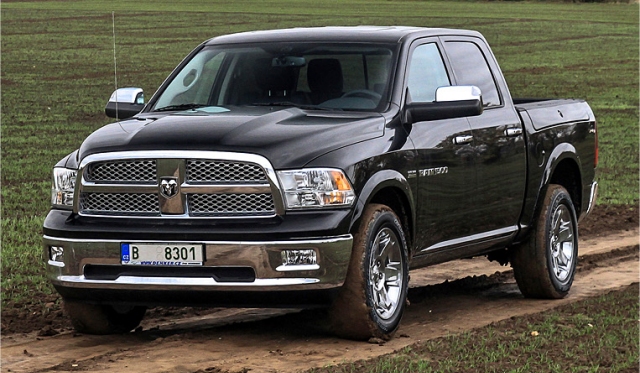 A lineup of engines is available for the RAM 1500 with our Laramie Edition being fitted with the range-topping 5.7 liter HEMI V8, which produces 390hp and 407lb-ft or 548Nm of torque. The eight-cylinder offers its highest output at around 5,800rpm for the horsepower and 3,950 for the torque. The V8 is designed to run on conventional unleaded gasoline or E85 (85 percent ethanol, 15 percent gasoline) or any blend of the two. This allows the owner to take advantage of cleaner-burning E85 alternative fuel wherever it's available.
The power is delivered in an instant manner if you take the RAM's size and weight into consideration. The engine is linked to a five-speed automatic gearbox, which offers reasonable fast shifts and easily converts the power to all four wheels. A 0-62mph sprint is done in around 7.5 seconds on paper, quite rapid for such a large utility vehicle. The acceleration is accompanied by a deep roar from the dual chrome exhaust tips.
The gearbox offers a revised torque converter and an Electronic Range Select feature that's designed to allow the driver to match engine speed based on driving conditions, such as when towing on steep grades. With a short 3.00:1 first gear, this transmission is a pretty worthy companion to the Hemi V8 and allows you to adjust to the situation. The four-wheel drive system can be altered between two-wheel drive, four-wheel-drive (auto & lock) and lower gearing via a cheap looking rotary button on the dashboard.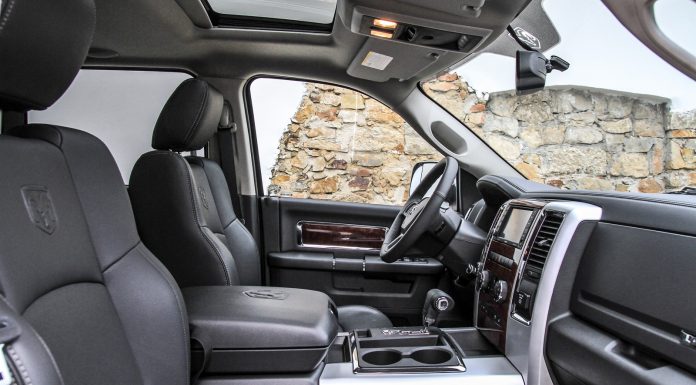 The 2012 Ram 1500 is offered in Regular Cab, Quad Cab and Crew Cab models, with three box lengths: 2.4m (8ft) (Regular Cab), 1.9m (6ft-4in) (Regular Cab and Quad Cab), and 1.7m (5ft-7in). Our Crew Cab configuration featured a RamBox cargo management system that provides weatherproof, lockable, illuminated and drainable storage compartments integrated into both fender sides. Quite handy when you want to go hunting or camping!
The exterior setup is truly mend for off-road and serious terrain utility. The large wheels and cargo compartment at the back are key features for farmers, cowboys and people spending their working or fun hours in the wilderness. The interior however is clearly a step back from what we are used to in Europe. The low quality plastics on the dashboard and the cheap fake wood are surely not the finest we have come across and do not tend to fit the reasonable high price tag in Europe. The quality of the center navigation and audio system feels out-dated in a 2012 model series.
In terms of ride and handling, the RAM 1500 is clearly one of the worst "SUVs" you can get on European roads, but surely one of best trucks if you would ever fancy one. The Americans might tend to believe that the conventional A-arm suspension up front and five-link solid axle setup with coil springs are the way forward handling a half-ton RAM truck, but anybody who has ever driven a Range Rover knows better. The non-civilized manners of the chassis and the constant feedback from the suspension, which lacks any type of rigidity due to the open cargo compartment, are ultimate downfalls for purists. This vehicle is mend to be a workhorse, so do not even consider any type of refinement or driving pleasure somewhere hidden under its massive body work!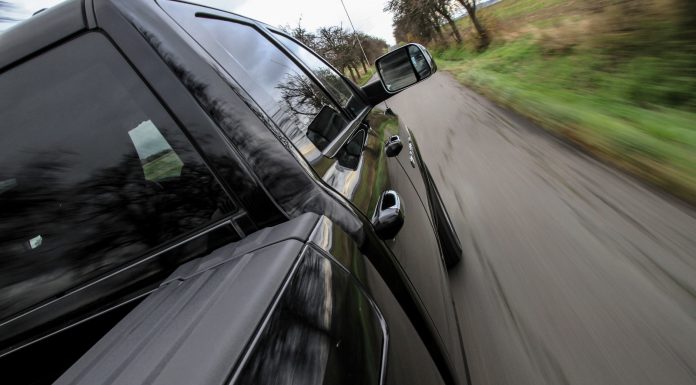 Next up is the steering, which shares simply no communication to the driver. The massive turning diameter does not put the RAM among the easiest vehicles to maneuver either, particularly in tight spots. Given its overall girth and high center of gravity, the RAM 1500 is definitely not designed for corner carving. That said, it's decently predictable through the turns by truck standards, which is a completely different type of standard used by the Europeans when it comes to their V8-powered 4×4 Sports Utility Vehicles.
The 2012 RAM 1500 Laramie Edition is a nice mix between an utility vehicle, a cabin for four people and a large cargo compartment to move around goods. This truck is not a highway eating monster, nor the ultimate everyday four-wheel drive for the family. The RAM 1500 should only be used in extreme (working) conditions, where you do not consider proper road handling, excellent steering feedback, a reasonable petrol consumption or a quality interior with the latest high-tech gizmos.
Nope, you would request a rather primitive set up capable of bringing you and your extreme load from A to B with no questions asked and no worries in the back of your mind. This RAM truck is capable of delivering this task in fashion, exactly like the Americans at Chrysler intended it to be and clearly something we Europeans will never try to pay attention too. Refinement and quality are our main focus. Those come at a cost and we are willing to pay for it. The Americans however tend to admire versatility and sheer presence as their favorites. A clear difference of automotive culture!
Special thanks to Denker Automotive for providing us this ride!