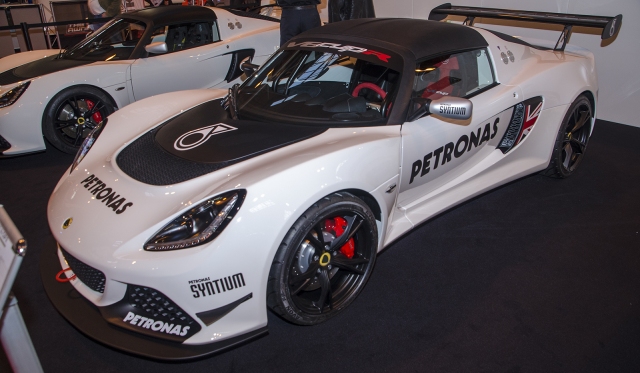 While visiting the 2013 Autosport International event, GTspirit was able to take a look at the brand new Lotus Exige V6 Cup R sports car released by the famous British sports car manufacturer.
The new car is based around the standard Exige V6 Cup, but features a selection of new aerodynamic components as well as some new equipment under the hood. The most notable visual changes are the inclusion of an aerodynamically-designed body kit featuring a new front splitter, front canards and rear diffuser.
Under the hood, the Exige V6 Cup R produces 20hp more than the standard V6 Cup, lifting horsepower to 366hp and 296lb-ft of torque. This engine is then mated to a six-speed manual transmission and can sprint to 100km/h in just 3.8 seconds and onto a top speed of 274km/h.
Inside the car, you'll find an almost completely bare interior stripped of all the non-essentials and completed with a roll cage, fire extinguisher and racing seats with 6-point harnesses.