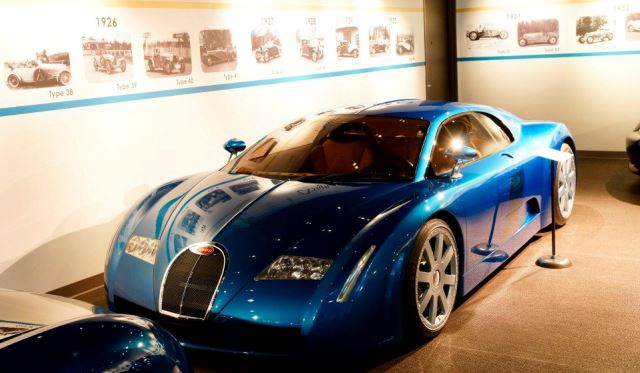 Mullin Automotive Museum is an automotive museum owned by Peter Mullin, a car collector with a passion for French cars. Having opened the museum in 2010, he has so far collected 25 Bugatti Models ranging from the legendary Bugatti Type 23 Brescia and iconic 1936 Bugatti Type 57SC Atlantic to the 1994 Bugatti EB 110 SS. The collection covers 70 years of Bugatti innovation and inspiration.
In the gallery below, you can see models such as the 1927 Bugatti Type 35C Roadster, 1929 Bugatti Type 44 Coupe Fiacre, 1939 Bugatti Type 57C Aravis, 1998 Bugatti EB 118, 1999 Bugatti 18.3 Chiron, 1928 Bugatti Type 37A and even the 2010 Bugatti 16.4 Veyron Super Sport World Record Edition.
Mullin says;
For me the French automobiles of the 1920s and 1930s represent the pinnacle of 20th Century art and design. As an avid collector, the preservation of these rolling sculptures for the enjoyment of future generations is both a responsibility and a pleasure. I relish the stewardship and preservation of their exciting histories.
The museum which is based in Oxnard, California was the 2011 Pebble Beach Concours d'Elegance Best of Show Winner with the 1935 Voisin C25 Aerodyne a car presented for the first time in October 1934 at the 28th Paris Salon de l'Automobile.