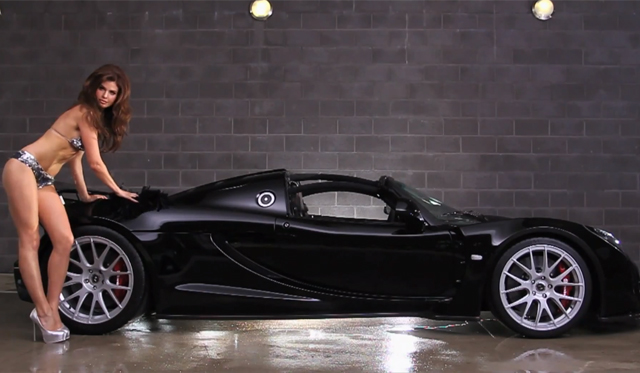 In May last year, Steven Tyler officially took delivery of the very first Hennessey Venom GT and well after the first pictures of the delivery were released, a new video depicting the car's arrival has appeared on YouTube with a good-looking girl pulling the wraps off the car.
As you'll soon see, the video begins with an attractive girl driving it onto set and then slowly dancing around the 1,244hp monster. After all, what's better than girls and cars?!
[youtube]http://youtu.be/zhHZnWUkVL8[/youtube]
Steven Tyler was obviously extremely happy with the car saying "Holy Mackerel" when the wraps were pulled off.
The Hennessey Venom GT Spyder is powered by a twin-turbocharged aluminium V8 engine producing 1,244hp and 1,135lb-ft of torque mated to a six-speed Ricardo manual transmission. Consequently the car is said to hit 62km/h in 2.2 seconds and travel onto a top speed well over 250mph.