China seems to be a real hotspot for crashes at the moment, the latest is this Ferrari F12 Berlinetta. It appears as though the powerful supercar drove into the back of an SUV, causing damage to the front of the car.
The accident is believed to have happened in one of China's biggest cities, Guangzhou. The damage looks minimal and will likely be repairable, however, it will also be costly. The car doesn't appear to be wearing any license plates which might suggest that the owner is not insured or that the car is a dealership demonstrator model.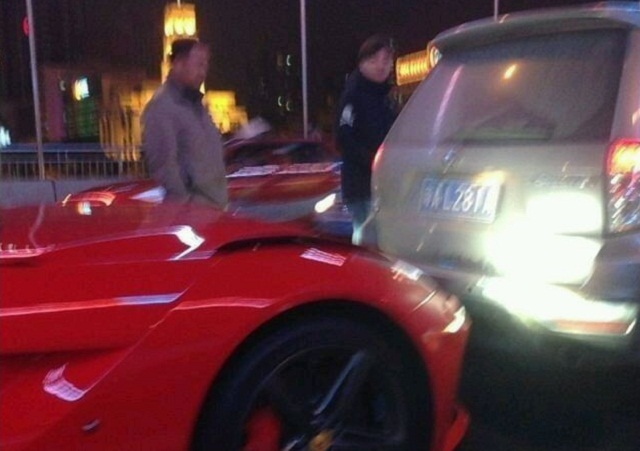 The 2013 Ferrari F12 Berlinetta offers a 740hp output from its 6.3 liter V12 engine. The powerful engine is linked to a seven-speed dual-clutch gearbox and rear-wheel-drive setup. Acceleration from 0-100km/h is done in three seconds dead, 0-200km/h takes just 8.5 seconds. That is 0.4 seconds faster than the 700hp Lamborghini Aventador. The top speed of the new Ferrari F12 Berlinetta will exceed 340km/h.
Of course, we have seen other supercar accidents in China recently. We've reported on Lamborghini Murcielago's, Gallardo's and Aventador accidents as well as a particularly horrific Mercedes-Benz SLS AMG wreck. The Ferrari F12 Berlinetta was bound to fall victim to an accident sooner or later. Its sad that it had to happen so soon though.
[Via Autoblog.nl]