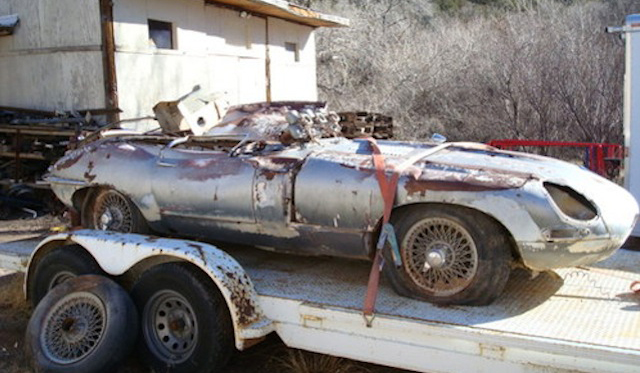 One could quite comfortably argue that Jaguar's most iconic sports car is the 1963 E-Type Coupe. Sure, the British company has produced faster, more powerful, more expensive and better built cars since then, but the E-Type still remains an iconic car from an automotive-era where style was everything.
Consequently, good quality examples can easily fetch upwards of $80,000 when put on the auction block and being able to find a reasonably quality unit below this price point in near-on impossible.
However, a lucky buyer on eBay Motors was able to purchase a genuine 1963 Jaguar E-Type for just $7,601.
The catch?
Well, as the following pictures show, this particular E-Type isn't exactly in pristine, showroom condition. As a matter of fact, this E-Type is one of the most thoroughly thrashed examples we've ever laid eyes on and has unquestionably had better days with the car clearly having been rolled multiple times, having bullet holes all around and has enough rust to make any E-Type enthusiast feel nauseous.
As a result, this purchase doesn't seem like a bargain anymore does it? After all, restoring the car to a driveable state or even a state good enough to be displayed in a museum will inevitably cost hundreds of thousands of dollars.