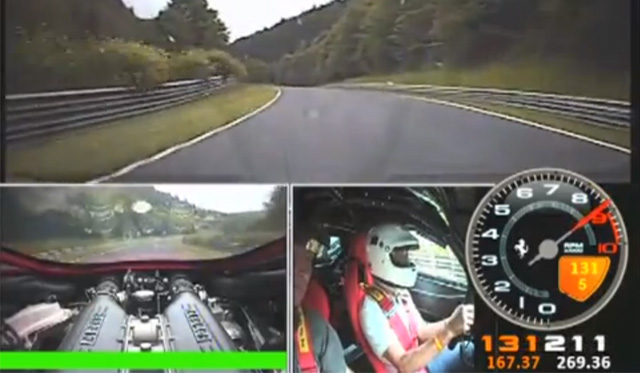 Professional driver Colin Alton is no stranger to going 10/10ths on the Nurburgring, having driven sub eight-minute lap times in everything from the race-car-for-the-road 430 Scuderia to the latest Nissan GTR.
However, as any driver will tell you, you're only as good as your last race. And unfortunately for Colin, this axiom came true in a scary and dramatic crash in a race-prepped Ferrari 458 Challenge car. Colin gives an excellent blow by blow account of what exactly caused the accident, citing "the suspension going light" and "the right tyre touching the grass" as the causes for his dramatic accident. The accident itself came about as a consequence of the traction control system cutting torque to the engine just as the car went light coming over the final left corner of Kesselche.
This section of track is notorious for separating the men from the boys, so to speak. In any decently quick car, you'll be full throttle for the duration of the corners. Despite the head-on 130mph+ collision with the guardrail, both driver and passenger escaped with no serious injuries and Alton expects to have the car repaired and ready to race for the 2013 season of Ferrari Challenge. Really a testament to the safety of the cars, as neither Alton nor his passenger were wearing anything beyond a crash helmet and racing harnesses.
According to the cars on-board telemetry, his projected lap time would have been close to 7 minutes 15 seconds, if it weren't for the unfortunate accident. Colin has been quick to answer questions posed by those viewing his crash on his YouTube channel. You can see the video of the crash for yourself below.