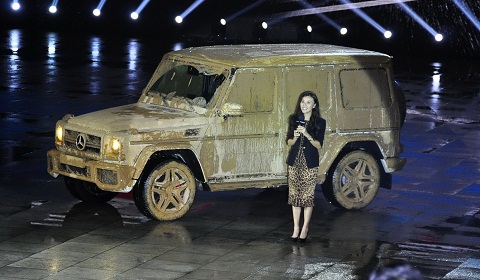 The Mercedes-Benz G63 AMG and G65 AMG have now officially been revealed to the Chinese market. The Mercedes-Benz marketing plan for the G-Class models focuses heavily on the emerging Chinese market as wealthy customers want large cars with plenty of rear seat space. That's probably why they bought they didn't bother to clean it prior to presentation!
Of course, clean examples were on display. Prices were set at 2.29 million yuan for the G63 AMG which translates to 278,031 euros at today's exchange rate. The G65 AMG will retail at the larger price of 3.78 million yuan, a staggering 458,933 euros.
The 2013 Mercedes-Benz G63 AMG gets the AMG-fettled 5.5 liter V8 biturbo engine delivering 544hp and torque of 560lb-ft. Coupled with AMG's Speedshift Plus, seven-speed automatic transmission, this means 0-100km/h is possible in just 5.3 seconds and top speed is limited to 209km/h.
The 2013 Mercedes-Benz G65 AMG features a twin-turbocharged 6.0 liter V12 AMG engine. It produces 604hp and 738lb-ft of torque with the same AMG Speedshift Plus, seven-speed automatic transmission. It does 100km/h from standstill in 4.4 seconds and has a limited top speed of 276km/h.
[Via Autohome]