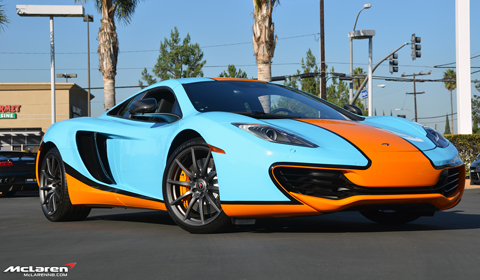 Gulf Blue would likely ring a bell to any motorsport fans out there. Whenever anyone says those two words, your mind may instantly trace back to the legendary days of the light blue Le Mans racers with their single orange racing stripe like the GT 40 and Porsche 917, or the many modern day racing cars such as the 2009 Aston Martin LMP1 which use the same paint code.
Well, a fairly new trend is emerging involving modern day supercars being sprayed in similar paintjobs with the latest addition to this exclusive club being a McLaren MP4-12C hailing from McLaren Newport Beach.
Even though the colors may be a little bit brighter than the original Gulf paint schemes of the 1970's, this MP4-12C would inevitably stand out clearly in a crowd of other 12's, with various other components such as the rear wing and side air intakes being finished in a contrasting carbon fiber finish.
So tell us, is this overkill or a tasteful paint scheme?