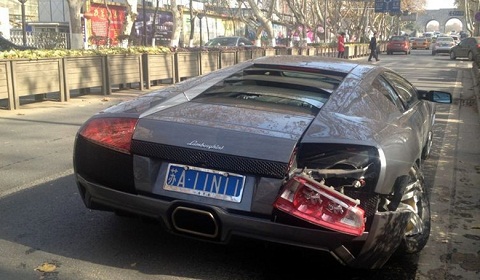 We have another Lamborghini Murcielago LP640 wreck to report from China. This grey example lost control trying to avoid a collision with a truck in Nanjing, Eastern China. The Italian supercar hit a grass verge divided by a concrete kerb. As you can see from the photos, the Murcielago's rear wheel has completely buckled, the rear bumper and right rear light also suffered damage.
The damage to the car looks fixable and the driver walked away uninjured. However, we're told that the driver was not the owner and that the Lamborghini was in fact owned by his boss. The implications are that the car was probably not insured. The insurance company and the police are investigating what happened.
The accident happened on a busy stretch of road causing two kilometers of traffic.