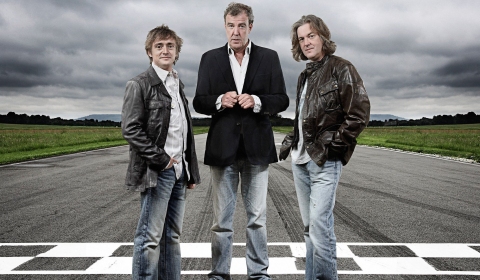 Ticket sales have revealed that Top Gear will be back on our TV screens on 27 January. Applause Store, the official Top Gear live filming ticket vendor, listed five new dates for filming. We're told that Top Gear Magazine contains a preview of Season 19 this month so for die hard fans, it might be worth checking out.
Jeremy Clarkson, Richard Hammond and James May will all return for Season 19. Top Gear features will include the widely reported US trip which many expect to be the Christmas Special. James May gets his hands on a yellow Lexus LFA, Jeremy Clarkson drives a light blue Aston Martin AM 310 Vanquish and Richard Hammond drops behind the wheel of a new black SRT Viper.
The series will also feature a Top Gear review of the Pagani Huayra and a feature involving the Toyota Hilux Invincible tackling something extreme!
There is some bad news though. It seems as though Season 19 will be the shortest yet. Applause Store lists five filming dates, starting with Wednesday 23 January and ending Wednesday 20 February. In short, the season will last less than a calender month, with the final episode airing on Sunday 24 February.