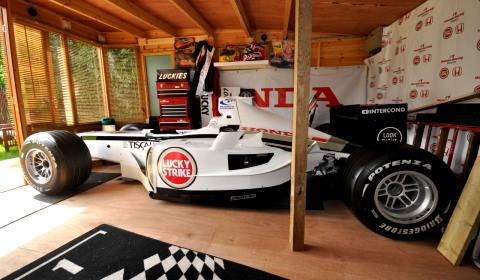 Kevin Thomas a resident of Brighton, England is in the process of building up his own Formula 1 race car according to reports from CarandDriver. Thomas who is lucky to be well connected amongst F1 parts collectors started his project with a mere F1 tub listed on eBay, with no bidders at the moment he sent the lister an email who would later show up at his doorstep with two tubs, Kevin bought both.
With two tubs namely the Reynard BAR 01 and a BAR 003, he decided to start off with the 2001 British American Racing 003 where he was to assemble the drivetrain, suspension, seat and all the necessary requirements. Over time, he has learnt how to work with carbon fiber, chopping up the pods, and modifying them to fit with a BAR engine cover.
The car is not yet complete as it lacks the drivetrain, Kevin constantly checks up eBay for any of it but the likelihood of a 3.0 Liter V10 similar to the one that powered the first BAR showing up on eBay is very low. Kevin was quoted saying;
I'll probably go for a Formula Renault 3.5 liter engine, that will be plenty fast enough to scare the living daylights out of me.
Kevin also adds that he uses what he gets, and for his dream to come true he might just require more than his own hand, so far he has used $13,000 and from the look of it, the car looks complete but it's not. We all hope that he gets to finish in this project.
If you think you can get Kevin Thomas what he needs or know someone who can contact us via the contact page and we'll put you in touch.