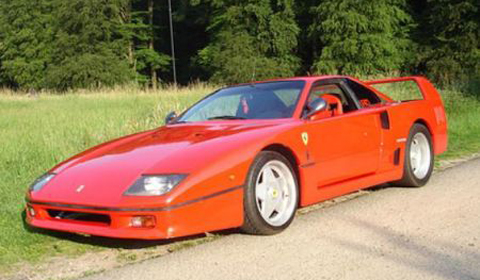 Supercar replicas are largely massive fails. The Toyota MR2 has been the car of choice of which to build Ferrari, Lamborghini and Porsche replica's on for many years and although the body work can be replicated quite well in some cases, the basic engine of the MR2 often remains meaning you're left with what appears to be a supercar, yet one which can barely keep up with a Toyota Prius.
This Ferrari F40 replica on the other hand features quite accurate body work (any true automotive enthusiasts would still be able to identify it as a fake) while also being fitted with a 5.0 liter V8 engine producing 544hp to truly rival the 2.9 liter twin-turbocharged V8 of the stock car which 'only' pumps out 471hp.
This particular F40 replica is possible based on the Pontiac Fiero and has 98,649km on the odometer and can be yours for just 17,500 euros. While this may seem like a bargain, is it worth the embarrassment of driving around knowing you're a fraud?