So here's what we know so far. Audi is planning a new supercar to sit above the current R8 and top out its model line-up. Apparently the so-called R20 or R10 (depending on different sources), will be better than McLaren's P1 and will essentially be a road-going version of Audi's Le Mans winning LMP1 cars.
Other than those details and the fact that the car should feature an engine producing over 700hp and 1,000Nm of torque, not much is known about Audi's upcoming diesel-electric supercar. However, thanks to new information just released, we can begin to paint a clearer picture of what the R20 may be like.
Beginning at a design standpoint, Audi is expected to equip the R10 with a full size tailfin from the R10 Le Mans racer, combined with a single frame grille, stacked LED headlights, an adjustable tail spoiler also acting as an airbrake, as well as ventilated front and rear wings.
Furthermore, the car is expected to have a canopy-style cockpit with gull wing doors, similar to the R18 race car while an advanced active aerodynamics system will provide the R20 with additional downforce in the 100-200mph range.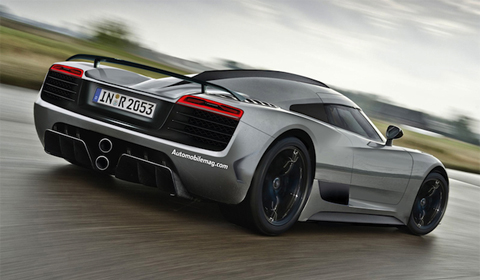 Elements of the R18 are also said to be prevalent in the interior, with it featuring a black panel center display rather than conventional gauge cluster, active-contour seats with built-in racing harnesses as well as an array of cameras, including ones to possibly replace the wing mirrors.
The car is then expected to feature a twin-turbo V6 powerplant producing 550hp. Additional power will then be sourced from a pair of 75hp electric motors powering the front wheels, therefore lifting power up to the previously rumoured 700hp mark. Such a system will also provide torque vectoring, excellent traction, higher levels of torque, a zero-emissions option and an "on-demand boost effect".
The latest reports predict that the R20 may make a public debut at the Pebble Beach event in 2015, before hitting the production line the following year. Due to the extensive development of such a car and the high-price tag, it's predicted that between 100 and 250 units will be produced.
[Via Automobile]